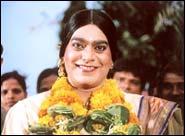 Shabnam Mausi was just another movie for me to review, and I caught it at a suburban Mumbai multiplex.
But it turned out to be quite an experience!
To begin with, I was surprised to see a group of eunuchs watching the film with me. But then, I should have expected that. After all, Shabnam Mausi is the real life story of a eunuch who became a state legislator.
| | |
| --- | --- |
| | More on rediff.com! |
| | |
But 30 minutes into the movie, a scene jumped without any connection to the previous one. A eunuch beside me exclaimed that the film had been considerably forwarded. After all, she had acted in the film, and knew the story.
The audience in the theatre became agitated. The theatre authorities explained that the print was bad, and refunded the money.
So I trudged to another theatre that was screening the film.
But I guess it was just a bad theatre day for me. This one was a shoddy theatre with no air-conditioning. The fans could well have been missing -- they provided no breeze.
As I settled down in my seat, I braced myself for the rest of the film.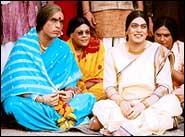 The story of Shabnam Mausi goes like this: A child is born in a police officer's house and eunuchs come to his home to celebrate, as is the Indian custom. When they check if the child is a boy or a girl, they exclaim, 'Yeh hamari biradri ka hai, hum ise le jayenge (He is one of us, we will take him).' And they take the child away.
The baby, called Shabnam, is bought up by Halima (Vijay Raaz) and the head of the community Amma (Vishwajeet Pradhan). When she grows up (to be Ashutosh Rana), she gets framed for Halima's murder. Shabnam manages to run away from police custody and goes to Anupur in Madhya Pradesh.
There, she rescues a girl from being raped and suddenly, becomes famous in the village. The local political leader asks her to stand for elections. She accepts, and wins.
The first 30 minutes are quite gripping, and depicts the lives of eunuchs and their desire to lead a regular life -- working in an office, marrying and having children.
But when the story shifts to Madhya Pradesh, it starts dragging. It tries to be realistic but fails to appeal.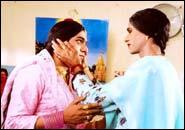 Ashutosh Rana may be a good actor, but he will not be able to pull crowds to the theatre. He has performed with grace. But it is Vijay Raaz and Vishwajeet Pradhan who outshine him.
Mukesh Tiwari impresses, but he has been wasted in a very small role.
The songs have been choreographed well.
Director Yogesh Bhardwaj has tried to make a realistic film in a very commercial way. But it will not appeal to the common man.