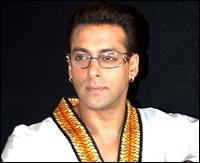 F
ive years ago, Hollywood director Willard Carroll made a romantic comedy called
Playing By Heart,
featuring Sean Connery.
Now, Carroll is in Rajasthan, shooting Marigold, starring Salman Khan, Nandana Sen and Ali Larter (Final Destination, Legally Blonde).
The movie is replete with songs in English and Hindi, and dances choreographed by Remo, who has done films like Aankhen and Meenaxi.
The film's first schedule started on March 27 at Kimsar Fort, which is a two-hour drive from Jodhpur in Rajasthan.
'I think Salman is really cute!'
The story is about the romance that blooms between an Indian choreographer Prem (Salman Khan, using his favourite name borrowed from Sooraj Barjatya's cinema) and an American actress Marigold (Ali Larter) and Prem's Indian love interest Jahnvi (Nandana Sen).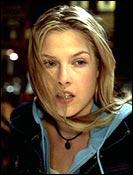 "Willard Carroll seems to have studied the Bollywood conventions more closely and intimately than most of our own directors," says Nandana. "He seems to know our song and dance tradition better than us! I'm having a ball shooting with Salman and Ali."
"I've worked with international crews earlier, and this one is as professional as it gets. They've got everything so much in place that I can't dream of taking a day off to visit my ailing grandmother in Shanti Niketan [in West Bengal] . There's just no room for even a small break," she adds.
The Rajasthan schedule will conclude on April 10, and then the Marigold unit will move to Mumbai on May 12. The shooting will end mid-May, after a song is filmed on Salman and Ali.
So is Salman ready for an international career? Unlike Aamir Khan, who had employed an agent in Los Angeles to get him work after Lagaan, Salman has no plans of using Marigold as a stepping stone into Hollywood.