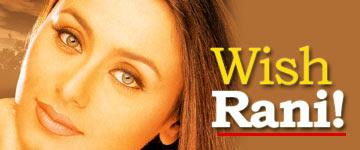 Rani Mukerji sure knows how to live up to her name. There is no doubt that the actress is on every director's wishlist after acting in hits like Hum Tum, Veer Zaara and Black.
She was also voted the top actress of 2004 by our readers!
Rani turns 27 on March 21.
SMS your birthday wishes to Rani!
Just type RANI followed by space, and your greeting. Then SMS it to 7333 by 4 pm, Monday, March 21.
We will ensure Rani gets your SMS wishes.