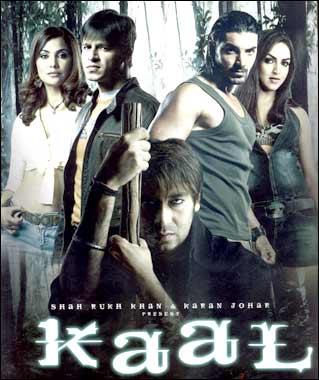 Some say the formula for success is unknown. 'Some' obviously are oblivious to the existence of Shah Rukh Khan and Karan Johar. Pair them together and the result is inevitably a certified hit.
They shared a few frames in Aditya Chopra's Dilwale Dulhania Le Jayenge. It became a blockbuster. Johar made three films (Kuch Kuch Hota Hai, Kabhi Khushi Kabhie Gham, Kal Ho Naa Ho) with SRK in the lead. All of them became money-spinners. He featured his superstar friend in the first episode of his first talk show, Koffee with Karan. The episode, as well as the show, has become quite popular.
The super duo have collaborated as producers on a film, which is not the kind of candyfloss fare they are usually associated with. Directed by Johar's assistant, Soham Shah, Kaal revolves around a bunch of youngsters and their encounters with the wild beasts lurking in the lethal and mysterious forests.
For a first timer, Soham certainly had a huge cast of Ajay Devgan, John Abraham, Vivek Oberoi, Esha Deol and Lara Dutta on his hands; not to mention, the presence of SRK and Malaika Arora, who make a sizzling appearance during the opening credits of the title song.
The music of Kaal is unlike any of his previous family entertainers. The heartbeat of Kaal is buoyant, spunky and in sync with the digital age.
So after Jatin-Lalit, Sandesh Shandilya and Shankar-Ehsaan-Loy, he opts for the services of Salim-Sulaiman. Does the composer duo justify their selection? Quite!
The five-track soundtrack opens on a dynamic note with Tauba tauba. The song tries to be one up on last year's chartbuster Dhoom. Tauba falls in the same genre of catchy dance music with its foot-tapping beats and vivacious aura. We spy a hit!
Another potential chartbuster makes its way into the album going by the name of Nassa nassa. Guest composer Anand Raaj Anand kicks a high voltage storm with this musical missile sung vibrantly by Sonu Nigam and Sunidhi Chauhan.
Liveliness runs in the veins of Kaal's music. The title track is loaded with punch and attitude. Okay, so it is pretty low on melody. Even so, it tries hard to make up for this inadequacy by maintaining an animated pulse. What's more? It's even got Will Smith's hip-hopish 'Uh uh' sputtered in between. Still, I prefer the Club mix. Interspersed with Jungle beats, the remix version appeals much more.
Ankhiyan teriya ve
is your kick ass Punjabi number meets heavy-duty digital instrumentation. Wait. That's not all. It's got enough space to squeeze in the 1980s anthem
Eye of the tiger
by Survivor too. Gasp? I know. That, however, doesn't stop this jazzy mish-mash from catching your fancy.
Jungle mix
is a mix of weird and wild. It begins on a seductive note with Caralisa's husky voice pleading 'Kiss me, love me' and goes on to feature the sacred
Maha mrityunjay
mantra. That's East meets West,
Kaal ishtyle
for you?
As a bonus, the soundtrack includes a medley of hit songs from Karan Johar movies, aptly titled after his banner, Dharma mix.
Kaal
, translated as both time and death, is an upbeat, techno-infested album. So if you enjoyed the music of
Dhoom
and
Musafir
, it's thumbs up for
Kaal
.
Text: Sukanya Verma