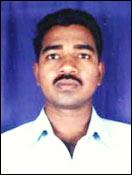 A
amir Khan is a truly versatile actor, and his face suits his character every single time. This chameleon-like attention to detail is, to a great extent, the work of
Jogendra Gupta
, Aamir's makeup man.
Gupta on working with the actor:
I met Aamir for the first time during Ghulam. I was not his personal makeup man then but was hired by a company. The same arrangement was on during Sarfarosh.
It was during Lagaan that I was hired by Aamir and sent to Bhuj. They wanted someone to work on wigs, moustaches as well as makeup. I am trained in wigs.
| | |
| --- | --- |
| | More on rediff.com! |
| | |
They hired a foreigner too. At first, I was filled with worry whether we could work together. But they showed a lot of confidence in me. When their contract expired -- as
Lagaan
overshot its shooting schedule -- they told Aamir that I was more than capable of looking after the cast on my own.
I learnt a lot from Aamir. He has an amazing amount of tolerance. I have yet to see such a patient man. Yes, he gets angry but he doesn't lose his patience and he tells you very nicely what requires correction. He likes the natural look. He never compromises on his look.
I had a dream that I wanted to work with Aamir, Shah Rukh and Salman Khan. I am grateful to the Almighty that I got the chance. I couldn't believe my good fortune that Aamir actually called me to work with him.
After Lagaan, Aamir called me home and asked what I was doing. I was freelancing. He asked me if I would like to work with him. I asked whether his regular makeup man would mind but told me not to worry about that. I said it would be an honour to work with him.
When Lagaan was nominated for the Oscars, he told me I would have to go with him to the US. I was thrilled! He not only took me along, but also had me stay at the same hotel as himself for 11 days! I had a grand time eating and making merry watching all that was going on.
He is very affectionate. He met my daughter once and asked me if I was married! I said, 'Of course, I have two daughters!'
He laughed and said, 'Arre, isn't that too soon? You've never told me you were married!'
I worked in all his Coke advertisements -- all, except the Nepalese one. The Hyderabadi and the Bengali looks were very popular. But I did not work on The Rising.
As told to Lata Khubchandani

Don't Miss!
Aamir Khan is Mobile Idol