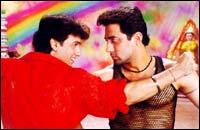 A
amir Khan became a Bollywood star but his younger brother
Faisal Khan
could not catch up. The two starred in a movie, Dharmesh Darshan's
Mela
, but the film bombed.
Though there are rumours of a fallout between the two brothers, Faisal talks fondly about Aamir a few days before Big Bro's 40th birthday on March 14:
There is only a one-and-a-half year age difference between Aamir and me. We shared a room together. My sisters Nikhat and Farhat shared a room with my great grandaunt.
Aamir, being the elder brother, bullied us. But at the same time, he was also protective. If I was naughty in school, my teacher would ask me to call my brother from his class and then complain to him. We studied in St Anne's till Standard 8, and then Aamir shifted to Bombay Scottish School.
| | |
| --- | --- |
| | More on rediff.com! |
| | |
I did my graduation in Arts, Aamir studied till the 12th in Narsee Monjee college. When I was in Std 10, he would teach me French because he's brilliant. I would have failed if he hadn't taught me. He's a good teacher.
Even when he was teaching us, he would bully us and make us run errands for him. He would order me to make tea for him, bring him water etc. We had to do it otherwise he would threaten not to coach us just when the exams were approaching.
If he could teach me, he must have been good because I wasn't a good student at all.
But he never beat us. There were never any fist fights. We argued a lot but the four of us were also good pals. We were pretty close. He bullied me and Farhat because we were younger. Nikhat was five years older, so she was closer to my cousins.
My cousin Nuzat was very close to Aamir. He'd discuss everything with her. She's dependable, sensitive, sensible and intelligent.
I was pretty naughty. Aamir and I used to cook up pranks together. A teacher would come and teach us the Quran and I used to plan how to bunk the lesson so I could play cricket!
We were very fond of eating imli (tamarind) but we weren't supposed to eat the imli which was kept for cooking. We'd work out ways to steal it!
Aamir and I would throw water on people who entered the building. We could see them entering the building and we'd get a bucket of water and throw it on them! It was fun!
In school, we were very naughty. We'd tease the teachers and the principal too. Our principal was bald and everyone called him 'katori'. One day, we were at a drawing lesson. We came out on the pretext of drinking water. As we peered down from the staircase, we saw the principal down the stairs. We shouted 'katori' and ran. He was furious and came into each class and asked which student had yelled out. We got caught and caned for it!
And we perpetually cheating in exams...