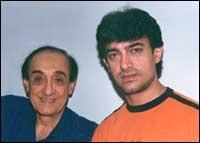 Bollywood superstar Aamir Khan turns 40 on March 14.
To celebrate the occasion, rediff.com spoke to some people who are closely associated with the actor who has given us such memorable films as Lagaan.
The first in the series is, of course, his father Tahir Hussain. The producer of films like Caravan, Anamika and Madhosh says he knew his son would excel at whatever he took up: 
"As a child, Aamir had an unerring eye for detail, for going for the best. If he wanted a pair of shoes and we took him shopping, he'd end up buying the most expensive pair. He always knew what he wanted and though he'd be respectful, he  would keep on about it till he got it.
As a child, he was always collecting things. If it wasn't marbles, it would be something else. But he was up to something all the time.
Tennis was his passion at one time though he played cricket too. He was very good at tennis and was the champion in the under 12 or 14 group. He played at the national level. I wouldn't allow him to go because I didn't want him to miss school. But he got his way and went.
Whatever he did, he mastered it. So I knew he'd be good at whatever he did.
| | |
| --- | --- |
| | More on rediff.com! |
| | |
He has always been generous too. He never refuses a plea for help. When one of our relatives could not get a hall to get married, Aamir offered his own house. Aamir has a big house and he kept it open for the wedding reception. Even we were surprised!

As a teenager, he wanted to join FTII (Film and Television Institute of India), which had just opened. I wouldn't let him give up his studies and he would argue that 'if someone wants to become a doctor, he goes to a medical school. I want to direct, so please let me join FTII.'

He said it was a good institution and was also recognised by the government. He was so persuasive. Finally, I told him that instead of joining FTII, he should start assisting my brother Nasir Hussain and learn the ropes of direction on the job.

He did so and along the way, my brother cast him in Qayamat Se Qayamat Tak with Juhi Chawla. And his film career started."

As told to Lata Khubchandani
Photograph: Pradeep Bandekar