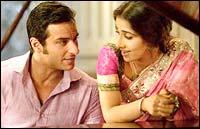 There's no getting away from Devdas in this new fascinating, absorbing and largely sensitive rendering of Bengali litterateur Saratchandra Chatterjee's other study of the male ego and its tragic repercussion on matters of the heart, set against a feudal backdrop.
Debutant Pradeep Sarkar's adaptation of the complex original material is as far removed from Bimal Roy's Parineeta as Sanjay Leela Bhansali's Devdas was from Bimal Roy's earlier classics.
Literary classics are open to more than one interpretation. Sarkar's take on Saratchandra proves it with bridled élan. While Bhansali's film was emotionally and optically extravagant, Sarkar's is more reigned-in, at times almost inhibited. And then, like a flower opening its petals, it is also prone to sudden fits of extroverted aesthetics. The Lolita-Shekhar lovemaking sequence (an add-on that may leave purists gasping indignantly) is a smoothly transitional process, from banter to bed, for the childhood pair.
| | |
| --- | --- |
| | More on rediff.com! |
| | |
The contradictory moods are well balanced and preserved. It's unclear why the original novel has been shifted from the early 20th century to the 1960s, unless this dizzying translocation was done so that the hero can play blues on the piano and savour the songs of Elvis Presley, or Rekha (in a thoroughly redundant appearance) can break into a smouldering jig and plonk herself onto a visibly embarrassed Sanjay Dutt's lap.
Pradeep Sarkar instills a smouldering intensity into the story of a hero too arrogant and self-absorbed to say yes to love. Unlike Devdas, Shekhar finally stands up to his conscience, heart and tyrannical father.
This Saratchandra hero is no walk-over. And neither is the film.
The sequences between father Sabyasachi Chakraborty (as nasty and self-serving as entrepreneurs can get in our movies) and son Saif Ali Khan would immediately remind audiences of the father-son whiplash war of words in Bhansali's Devdas. Both dads refer to their spoilt and decadent sons' sweethearts as whores.
Not a nice thing to do. Saratchandra suffered from a pronounced partriarchal complex. Both Devdas and Parineeta are coloured by a filial prejudice that seeps into the romantic arteries of the plot, rendering the hero almost impotent.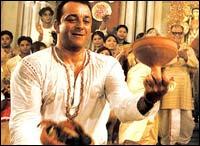 In fact, Shekhar's autocratic father calls his son a napunsak, a eunuch. The provocative expletive triggers off a masculine reaction in Shekhar, leading to a rather strange and strident climax where we encounter Saif Ali Khan literally breaking down the wall between him and his beloved, as onlookers egg him on, "Tod do, tod do!"
Break a wall, don't break a heart, huh? Well, so much for literal literary transcreations. There is a lot that is soft, delicately poised, and palpably contemporary in Sarkar's Parineeta.
The Shekhar-Lolita sequences possess a quality of understated naturalism. Childhood love is omnipresent in both of Saratchandra's classics. To the director's credit, Parineeta succeeds in giving a twist to to the tale: A tormented, but ecstatic, romantic twist. Saif and newcomer Vidya Balan look perfectly compatible. And Sanjay Dutt, who plays Lolita's older benefactor, now looks mature and self-deprecating enough to play the rakish, slightly over-the-hill 'other' man.
Cast in place, Sarkar gives the backdrop a body and a face. With exceptional help from editor Hemanti Sarkar, art director Keshto Mandal/Tanushree Sarkar and most of all cinematographer N Nataraja Subramaniam, the director reconstructs the bustle and social life of the idle rich in Kolkata of the 1960s. The clubs and cards sessions, the flirting and innuendo. The film takes us back to a lifestyle when an existential crisis meant you had to choose between two beautiful women, one for wealth and the other for romantic health.
The world of Parineeta is cloistered and yet liberating. The characters are dressed for the occasion but not suffocatinglly bound to the period they represent. The melodrama is often played at a shrill crescendo. But the down-scaling of the emotional pitch is done with stealth and grace. Except for the climatic rapping-on-the-wall (Saif looks far more convincing banging the piano in a frenzy of unfulfilled passion), the drama moves with a ballerina's footsteps.
There is a certain elegance and old-world charm to the narrative. We can almost hear the characters' breaking hearts, with the elaborate but uncluttured soundtrack.
The narrative, pacing and dialogue delivery are shaded and opened-out. Though shot indoors, the effect is of liberating light rather than an unventilated darkness.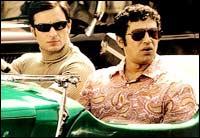 Newcomer Vidya Balan is a refreshing change from the conveyor-belt heroines of today. She looks like she would rather stroll in the garden than pant over the treadmill. But she fails to comprehend the nuances of the character. Her performance skims the surface with prideful spontaneity. To be fair, the debutante is surrounded by beauty and harmony, both in the cast (Raima Sen and Dia Mirza are pretty wallflowers) and production design so that she comes across far more effectively than she would have otherwise.
Dutt, though looking strangely tired, gets the sur of the era right. But it's Saif who walks away with the acting honours. Expressing the rancour, petulance, arrogance and insensitivity of a spoilt rich heir, he lets the tears flow unabashedly. His grip over his character's sensitivities is apparent, though not in a come-see-how-good-I-am way.
Parineeta works as a romantic drama and a period piece mainly because the cast and crew seem to get the point of the literary source without making a song and dance of scrupulousness. Sure, there's a tender care and a furious focus on period details and consistency of characterisation. But, most of all, there's a sense of nostalgic stock-taking in the way the three people in the triangle react to their environment and social circumstances.
Though the striking resemblances stare you in the face with the characters, plot and rich colours, don't look for Sanjay Leela Bhansali's Devdas in Pradeep Sarkar's Parineeta. And you'll come away a richer cineaste from this ode to a romantic era.