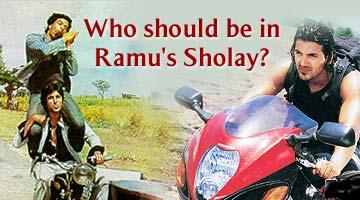 After striking box-office gold with his Godfather-inspired Sarkar, Ram Gopal Varma [ Images ] has ambitiously announced his grand intentions to remake the big daddy of Indian cinema -- Sholay [ Images ].
Who would you cast in the immortal roles?
Amitabh's [ Images ] son Abhishek? Dharmendra's [ Images ] son Sunny? Hema's daughter Esha? Jagdeep's son Javed?
Or will you be more creative and keep things outside family lines?
Most importantly, who in Bollywood now could possibly play Gabbar Singh?
Tell us!