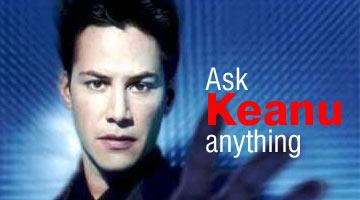 In Hawaiian, his name means 'cool breeze over the mountains.' Keanu Reeves is best known for playing the unforgettable Neo in the blockbuster Matrix trilogy, his other glorious moments including bomb-in-bus smash Speed and breakthrough hit Bill & Ted's Bogus Journey.
Now, he appears in the ambitious adaptation of one of the darkest comic-books: DC/Vertigo Comics' Hellblazer. In the upcoming Constantine, Keanu plays a version of John Constantine, cigarette-sucking practitioner of dark arts, and investigator of the paranormal.
Before Constantine hits the screens on February 18 (US) and February 25 (India), rediff.com gives you a unique opportunity. You can ask Keanu Reeves anything you want, and the star will answer the questions he finds most interesting!
So put on your inquisitive faces and ask Neo the answers.
The best questions, chosen by Keanu himself, will also win some terrific Constantine prizes.
Don't miss the star's exclusive answers and results revealed online, in early February.
Go ahead and ask: Knock, knock, Keanu...