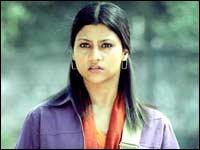 P
icking up an accent, it seems, has become
Konkona Sensharma
's favourite pastime. After enthralling audiences with the flawless depiction of a Tamil housewife in her mother Aparna Sen's
Mr And Mrs Iyer
, Konkona had to muster the Los Angeles twang of a Non Resident Indian in Shonali Bose's
Amu.
Guess what, she did it with élan.
With rave reviews for Amu, Konkona has every reason to look forward to Madhur Bhandarkar's Page 3, where she plays a journalist. Shouldn't be too diffcult, because her her father Mukul Sharma was a scribe.
The National Award winner spoke to Indrani Roy Mitra about her upcoming films.
| | |
| --- | --- |
| | More on rediff.com! |
| | |
What made you take up Page 3?
I was very impressed with Madhur's Chandni Bar. I thought it was a very important film, and very well executed. The film reflected sensibilities I empathised with. I was instantly interested to work with Madhur. I was very happy I got this offer.
Madhur was very supportive and accommodating. He would take me to local trains to help me get familiar with Mumbai. Of course, he chose not-so-busy hours. He even took me to newspaper and publication offices to make me aware of a journalist's life.
He had a very laid-back approach towards shooting and we worked over a long period of time.
Madhur is an excellent colleague. He is capable, confident, with a great sense of humour. Though we were always running against time or light, Madhur made everything easy for me.
Doesn't it, therefore, seem strange a man of his character was accused of rape?
I don't want to talk about that.
A National Award holds a special significance for an actor/actress. For you, it has come so early in your career. Take us through

Mr And Mrs Iyer, the film that made it happen.
Acting in Mr And Mrs Iyer was a unique experience. It was the first time that my mother was directing me in a lead role. Though I have worked with her before, when I was much younger, this was the first time I was doing a major role.
I could have never done it without her. We share a special relationship that made it possible. We understand and communicate with each other very well. She knows which buttons to push to get the best out of me. We share the same set of values, aesthetics and respect. And that has been the key to my success.
I have heard she is a very hard taskmaster.
Indeed. There were times when I would complain. But in retrospect, now that the film is behind me, I understand how fruitful my mother's prodding was. She is a perfectionist and takes everything very seriously, does everything very well. I am not like her. Therefore, I needed her guidance to deliver the best.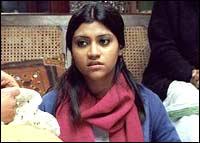 What made you feel interested in

Amu?
Director Shonali Bose came to Delhi. She was looking for someone who could speak the Indian-American accent well. I auditioned for her as I felt interested in the script. Initially, Bose did not want to take an Indian. Rather, she wanted an Indian American to play the lead. But I passed the audition and was offered the role.
What next?
Amavas
, a horror film by Siddhartha Srinivasan, an English film
Chaye Pani Etc
, my mother's yet-untitled English film and Mira Nair's
The Namesake
.
Acting in Bengali, Hindi and English films simultaneously seems like a big deal. How do you don so many hats?
It's not a big deal for me, frankly. As long as I like the script, speak the language and feel interested in the plot, I can play any role. Perhaps, my knowledge of three languages -- Bengali, English and Hindi -- comes as a major advantage.
As a creative person, what has been your motivation?
I have a very selfish reason. I love to act and interact with people. As soon as a good script comes my way, I waste no time in signing a project. So I work in films to make myself happy.
How do you unwind?
I do a lot of things. Whenever I get time to myself, I travel, watch films, hang out with friends. I make it a point to make the most of my leisure.