National Award-winning director Jayaraj's new film, Makalkku (To My Daughter) stars Shobhana as Killeri, a mentally deranged woman who used to wander the streets, and Suresh Gopi as Dr Warrier who takes care of her and her baby. The film is based on a true story.
Jayaraj is a director equally at ease with both commercial and artistic formats of cinema. His last film, 4 The People, a huge hit in Kerala, was remade in all the South Indian languages. Now, a Bengali version of the film is under way.
Makalkku is a film Jayaraj made to indulge his inner artist, thus joining the ranks of his award-winning films like Santham, Desadanam and Kaliyattam.
In this interview with Contributing Special Correspondent Shobha Warrier, Jayaraj discusses his latest film and his expectations from it.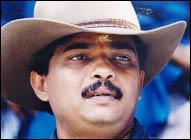 I read that Makalkku was based on a photograph and a subsequent feature written by news photographer Rajan Poduval. How did you chance upon the feature?
I think I read the story by Rajan Poduval, 'Manasi is not Vidya', more than a year ago. It featured the photographs of the girl Manasi, her mother, the mentally disturbed Killeri, and the doctor in charge of the Government Mental Hospital in Trivandrum, Dr M R R Menon.
The story was about a woman who spoke only one word, killeri. Poduval was present to photograph this woman when she was brought to the hospital by the police. She had her newborn in a cloth bundle. She was admitted in the hospital, but there was no provision to admit the baby.
When Dr Menon asked the magistrate about it, he was asked to take a decision himself. So Dr Menon decided to bring the baby girl up in the hospital. She was caringly brought up by the doctor and the nurses of the hospital.
The baby grew up among those who are termed 'mad.' Dr Menon found out the presence of a baby in the hospital brought about a lot of changes in the condition of the inmates. Even the baby's cries created a positive change in the inmates.
When the girl grew big enough to go to school, she was taken somewhere else. The story also spoke about the new place where she was growing up, contrasting it with where her mother was. That girl, who was born on the footpath, is a smart and lovely girl now. This is what attracted me to the story.
| | |
| --- | --- |
| | More on rediff.com! |
| | |
Did you meet Killeri?
I spoke to Poduval first, then Dr Menon and only then met Killeri. She speaks only that word even now. The little girl is now 12 years old. I met her too. She is such a talented girl that she excels not only in studies but also in dance, music, and other activities.
The theme of the film is very offbeat, and to portray a character like Killeri, you need a very strong actress too. Is that why you thought of Shobhana?
I could not think of any actress other than Shobhana who could do Killeri. You need a lot of commitment to portray Killeri.
I have seen Shobhana's films, and the first image that came to my mind when I thought of Killeri was Shobhana's role in Manichitrathazhu. I decided to do the film only if she gave me the necessary dates. I couldn't think of experimenting the role with anybody else. I needed a performer of her calibre.
When I spoke to her about the film, she said she was busy. But I needed only a few days. When she heard about the character, she was more than willing to do the role. I can only describe Shobhana's performance as outstanding. She was so subdued that I saw a performance of international standards.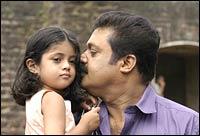 Why did you choose Suresh Gopi for the doctor's role? He has not been acting in movies these days.
Yes, he has been away from the film scene for quite a while. When I met Dr Menon, I decided that Suresh Gopi was going to be my doctor. Even at this age, Dr Menon is so tall and handsome that I could only think of Suresh Gopi to be my Dr Warrier.
You are one director who makes out and out commercial films, and also sensitive, artistic films. How do you switch from one type of film to an entirely different one? For example, your last film was a commercial venture, 4 The People.
I enjoy both kinds of films. Maybe it is because of this that I can make them. I make both kinds with the same passion and intensity.
As a director, do you think and function differently when you make the two types?
Yes, there is a difference in my mental makeup. When I make a commercial film like 4 The People, I am under tremendous tension because I am making it for the masses. I have to make them like and enjoy it. I have to convince them. If the masses don't accept a commercial film, it will be a big failure. Nobody knows what people like. Nobody has discovered that formula.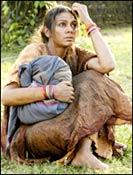 But when I am making a film like Makalkku, I experience full freedom as a filmmaker because it comes from me. As a director, I have to only convince myself, and not anybody else, which is very easy. So I will be at peace with myself while making a film like Makalkku. It was pure enjoyment.
Makalkku is like a painting for me, my own.
Makalkku is a big release. Are you still relaxed about it?
Yes. But it was a big task to take a film like Makalkku to the theatres. Distributors generally don't touch a film like this. Actually, a friend of mine is distributing the film. Even if the film runs for two or three weeks, we can break even because we have spent only Rs 30 lakhs (Rs 3 million) on it.
You make films in a very short period. In how many days did you finish Makalkku?
I finished the entire film in just 10, 12 days.