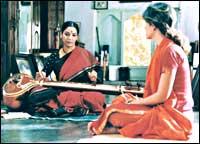 Mahesh Dattani is a talented man. He has written some fine plays – Dance Like a Man and On A Muggy Night In Mumbai (although it bears a close resemblance to Mart Crowley's play of the late-1960s -- The Boys in the Band). And Shabana Azmi was exceptionally good in Dattani's film Morning Raaga.
But what happened to Dattani last week will remain a puzzle. He was overjoyed to hear that the US distributor of Morning Raaga, Bollywood Hollywood Productions Inc, had submitted the film for the Oscar race. Sitting in Mumbai, Dattani started giving one interview after another to highlight what he referred to was a great honour to Morning Raaga.
Never mind Paheli, Dattani eyes Oscar
| | |
| --- | --- |
| | More on rediff.com! |
| | |
Obviously the director was peeved when his film was not selected as India's official entry for the Oscar in the Best Foreign Language Film category. Never mind that the Academy of Motion Picture Arts and Sciences had previously rejected an English language film from India, Aparna Sen's
36, Chowringhee Lane
. The Academy's explanation was that English was not India's official language.
But now this was sweet justice for Dattani. And the media in India -- from print publications such as The Times of India and The Hindustan Times, and television and online news portals -- joined the hype, without questioning whether the story was news worthy.
From his writings, Dattani appears to be a rational and intelligent man. And so it is all the more surprising that he truly believes that Morning Raaga's entry into the Oscar race is a great achievement. Here is an assortment of quotes from Dattani from last week:
"The selection for Oscar nominations depends on the taste and mood of those in charge."
"Morning Raaga is probably the first Indian film to enter the mainstream category. Quite an honour!"
'But we've got so far on merit alone. I'm hopeful.'
"Being nominated for the top five is the next step."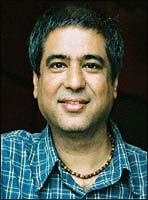 I hate to bring bad news to Dattani, but here are some facts. Anyone – a producer, director or a distributor -- can enter a film for the Oscar race. Only films competing in the foreign language race have to be submitted by individual countries.
Then there are a few basic qualifications for a film to be selected but those are relatively easy to meet. Most important, for a film to qualify for the main Oscar race, it should have had a commercial run in Los Angeles and New York for at least a week. Morning Raaga played for a week in March in a small Asian-American specialty art house theatre in New York. And perhaps it also played for the same length of time in Los Angeles.
But then nearly all Bollywood films play for at least a week in theatres in the US. And The New York Times reviews every Indian film released in the city -- whether in mainstream or art house or theatres that focus on Bollywood films.
If a film is selected for the general Oscar competition, that in itself does not mean it is a high quality product. And the fact that Morning Raaga will compete for the Oscars in the best picture and all other categories does not make it a special film.
It is just that most Indian film producers have never thought of entering their films in the general Oscar race.
And Dattani is wrong when he states that Morning Raaga is the first Indian film to be entered in the mainstream category. In 2001, Monsoon Wedding failed to be nominated as India's official entry to the Oscars (that honour went to Lagaan). But when Monsoon Wedding opened in the US in the Spring of 2002, Mira Nair told this reporter that her film still qualified for the Oscar race in all categories, except for the foreign language competition.
Of course, Nair did not give interviews to the press in India, bragging about her film's prospects. And so, Dattani's announcement last week became a major news item.
In his interviews, Dattani seemed very hopeful about Morning Raaga's chances. But how does Dattani hope to make a mark when the field is already crowded with some of the best-reviewed Hollywood films of the recent years -- including Brokeback Mountain, Capote, Walk The Line, Munich, Match Point and King Kong?
Do Dattani, his producer and distributor have the resources to hire a publicist in Los Angeles? Are they planning to hold screenings of Morning Raaga for the members of the Academy? The screenings should be held in Los Angeles, New York and London -- a major way by which producers and distributors attempt to draw attention to their films. Will DVDs and soundtrack CDs of Morning Raaga be sent to the Academy members? Will they run advertisements promoting Morning Raaga in Variety and The Hollywood Reporter?
If not, then how else does Dattani expect the Academy members to be aware about his film? Morning Raaga's weeklong run in New York hardly caused a ripple in the city's film-going tradition.
When Morning Raaga opened in New York, the Times critic Anita Gates was not very complimentary about the film. In her review she wrote: 'Although it is from India, it has few of the usual Bollywood musical excesses…Morning Raaga does suffer from some unfortunate Bollywood traditions, painful obviousness being one of them…The screenplay doesn't have a shred of subtlety.'
It was a 400-word review. The Times' editors had decided that Morning Raaga was not an important film and so it did not warrant more space in its busy Friday arts section.
I wish good things for Dattani and his Morning Raaga team. But the reality is very different than what he projected last week and the odds are heavily against his film. And that perhaps is the real news.