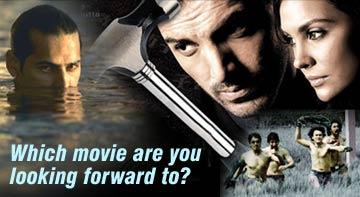 2005 is nearly over, and it has been quite a year for Bollywood.
And 2006 promises to be bigger, with several huge sequels, a bunch of multistarrers, and respected directors having pulled off casting coups.
Some of the big films due are the Aamir Khan [ Images ] starrer Rang De Basanti [ Images ], the Sanjay Dutt-starrer Zinda [ Images ], Madhur Bhandarkar's [ Images ] Corporate and Farhan Akhtar's [ Images ] remake of Don and Karan Johar's [ Images ] Kabhi Alvida Na Kehna.
But don't let us suggest names, tell us which film you are looking forward to the most in 2006.