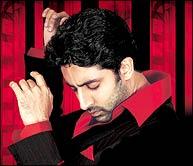 Abhishek Bachchan's Bluffmaster isn't exactly setting records abroad but in the two most important markets, the United Kingdom and North America, it is emerging as an average success.
And it has certainly beaten father Amitabh's dismal flop, Ek Ajnabee.

The success of Rohan Sippy's comic caper proves that Abhishek can open a film abroad with decent numbers. His Dhoom was a non-event in this market even though it did excellent business in India. Sarkar, another success in India, was also a non-event here.
Bluffmaster: A timepass blast!
| | |
| --- | --- |
| | More on rediff.com! |
| | |
But following the success of
Bunty Aur Babli
abroad, his visibility has been going up considerably.
In an
interview with
rediff.com
a few weeks ago, Abhishek had praised the performances of his co-stars in
Bluffmaster
, adding that he had been energised by their work. This week, several reviews, including one by the BBC, praised
Bluffmaster
's character actors.
'The film's biggest plus point is the fantastic performances by its supporting cast, [
Riteish
] Deshmukh and [
Nana
] Patekar in particular,' declared the reviewer Jaspreet Pandohar. 'The duo exhibit great comic timing, and by breathing life into their eccentric characters provide [
Abhishek
] Bachchan with a harebrained sidekick and sardonic archenemy.'
'It's ridiculous to even try and remake Sholay'
The BBC review also pointed out that the movie was adapted from acclaimed Argentinean film Nine Queens but added: 'This is arguably one of the most energetic and hilarious comedies to have come out of Bollywood this year.'

Time Out London too gave the Sippy film two thumbs up, calling it 'breezy.'

The film, which is drawing mainly younger viewers, grossed $170,000 on 32 screens in three days in the UK and was number nine on the box-office chart which was led by King Kong's $13 million take on 481 screens.

In North America, where King Kong roared for $50 million on about 7,500 screens, the Abhishek film grossed about $160,000 on 43 screens over the weekend and was placed at number 22 on the chart.
Meet Priyanka Chopra, the Bluffmaster!
Meanwhile, Ek Ajnabee, which had opened with dismal numbers in North America plunged in its second weekend by over 72 per cent, is on its way out with just about $200,000. On the other hand, Bluffmaster is expected to gross about $400,000 in North America especially in view of the holidays and schools and colleges being closed for about two weeks starting on Thursday. And the film could do better business in the United Kingdom.

The disastrous opening for the Uday Chopra-starrer Neal 'N' Nikki was followed by a lethal second week and the film is ending its run in North America with an embarrassing $100,000.