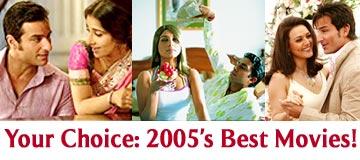 The year 2005 has been an eventful one for Bollywood and the Indian film industry.
We have seen hyped films like Aamir Khan's Mangal Pandey sink without a trace, we have seen movies like Black and Paheli, the reactions to which ranged from 'ridiculous' to 'sublime'. We have seen caper films like Bunty Aur Babli, and we have seen Amitabh Bachchan's box-office comeback.
There were raunchy comedies that became surprise hits -- like Kya Kool Hai Hum and No Entry; touching, feel-good movies like Iqbal. Besides, of course, less talked about, great regional cinema.
So, it's time for you, dear reader, to don the jury's cap and tell us your list of the Top 10 Films of 2005 and see if your choice matches with ours.