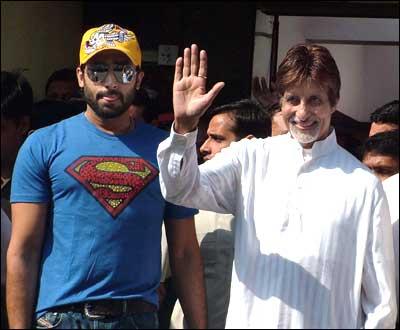 The Shahenshah is back.
Superstar Amitabh Bachchan has finally been discharged from Mumbai's Lilavati Hospital on Saturday, where he has been recovering after a successful operation to treat his diverticulitis condition.
The scene outside Lilavati Hospital
Huge crowds of fans surrounded the hospital, many travelling extensively just to get a glimpse of the actor.
Before he was discharged, Bachchan made a memorable appearance on the balcony of his 11th floor hospital room. Accompanying him were son Abhishek, daughter Shweta, wife Jaya and close friend Amar Singh. Industrialist Anil Ambani was seen at the hospital earlier in the morning. Amitabh looked down at the gathered media and fans, and waved -- one of those moments where the whole country collectively breathes a sigh of relief; Amitabh Bachchan is all right.
The fans weren't lucky enough to see Bachchan as he was whisked efficiently and discreetly out of the hospital. Rajesh Jadhav, one of the many who had travelled from far corners of Mumbai, said he was very disappointed. "I came early in the morning, and have been standing here for a long time. It is a once in a lifetime opportunity, to see Amitabh Bachchan recovered. I'm heartbroken that I couldn't see him up close."
But this disappointment is shortlived, and the general feeling is one of great relief.
Welcome back, Mr Bachchan.
With inputs by Syed Firdaus Ashraf
Photograph: UNI