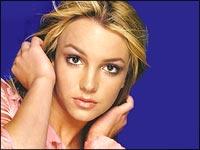 Despite taking most of 2005 off, pop star Britney Spears has, for the third time in four years, topped Yahoo's annual list of the most-searched for names on the Internet.
Although the 24-year-old released an album of remixes, B In The Mix: The Remixes, in November, it was the birth of her son Sean Preston Federline on September 14 that helped her gain the interest of millions.
The Toxic singer, who lost out to the TV contest American Idol in 2004, has beaten superstar rapper 50 Cent, who came in second on the list. Third place was taken up, strangely, by Cartoon Network, while Mariah Carey and Green Day bagged fourth and fifth positions respectively.
The top 10 is as follows:
1. Britney Spears
2. 50 Cent
3. Cartoon Network
4. Mariah Carey
5. Green Day
6. Jessica Simpson
7. Paris Hilton
8. Eminem
9. Ciara
10. Lindsay Lohan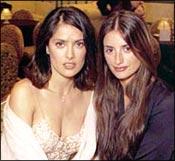 Cruz and Hayek eager to be Elton's bridesmaids!
Latino beauties Penelope Cruz and Salma Hayek are desperate to be bridesmaids at Elton John's wedding to David Furnish on the 21st of this month.
Spanish Cruz and Mexican Hayek were among dozens of celebrities who begged the singer and his Canadian filmmaker partner for a role in their same-sex civil partnership ceremony in Windsor, England.
"Penelope Cruz and Salma Hayek (asked), I kid you not. At the Cannes Film Festival, they both stopped me and asked if they could be bridesmaids," Furnish was quoted by Femalefirst.co.uk, as saying.
John's singer pal Anastacia has also declared her wish to be in the ceremony, saying, "I wanna be his frickin' orchid-throwing flower b***h!"
Naomi Watts to concentrate on her private life, after King Kong!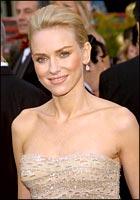 Hollywood beauty Naomi Watts has blamed King Kong for "destroying" her private life.
The sexy star, who plays blonde heroine Ann Darrow in the movie, says she now wants to put aside her movie career and concentrate on her love life and raising a family instead.
"It's not that I want to give up acting, but I do feel I've made so much room in my life for this movie -- and it has fulfilled  me in many ways, but now I want to make room for other things," she was quoted by Femalefirst.co.uk, as saying. "I want to start a family. My private life has suffered. So that's sort of what makes me clear about what I need," she added.
Earlier this year, Naomi revealed she regretted not having children before beginning her acting career and revealed that she had wanted a family ever since she was 19.
The Simpsons voted Best International TV Comedy Show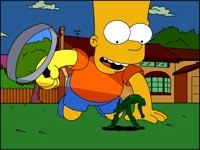 The Simpsons has been voted the Best International TV Comedy Show at the 16th annual British Comedy Awards.
Little Britain scooped the award for Best TV Comedy for the second year running, and its writer-actor stars, David Walliams and Matt Lucas, won the first Ronnie Barker Writer of the Year Award.
According to The Mirror, The Paul O'Grady Show won the award for Best Comedy Entertainment Personality, while the channel's talent show, X-Factor won Best Comedy Entertainment Programme.
The winners are:
Best TV Comedy - Little Britain
Best TV Comedy Drama - Shameless
Best Comedy Entertainment - The X Factor
Best New TV Comedy - The Thick Of It
Best International TV Comedy Show - The Simpsons
Best TV Comedy Actor - Chris Langham
Best TV Comedy Actress - Ashley Jensen (Extras)
Best TV Comedy Entertainment Personality - Paul O'Grady
Best Comedy Newcomer - Ashley Jensen (Extras)
Best Comedy Film - Festival
Ronnie Barker Writer of the Year - Matt Lucas and David Walliams