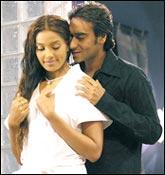 I loved Sarfarosh. I am not the only one. Both the masses and the critics applauded director John M Matthan's hardhitting debut featuring Aamir Khan.

Though, essentially, a story-centric project, Sarfarosh boasted of Jatin-Lalit's lilting music.

Now, following a gap of more than five years, Matthan is ready to strike the marquee with Shikhar, starring Ajay Devgan, Bipasha Basu, Shahid Kapoor and Amrita Rao. Set for a December 30 release, the film revolves around the tussle between ideals and ambitions.

Composed by Viju Shah, the soundtrack comprises nine numbers. If you are hung on the Shah of Tridev and Mohra, brace yourself for a huge setback. No Oye oye or Mast mast to play in a loop here.


| | |
| --- | --- |
| | More on rediff.com! |
| | |
What you do get is the marginally piquant
Fitna dil
. You could mistake it for a song from
Musafir
, belonging to the same genre as
Ishq kariyo na
.
Though the arrangement is natty and Udit Narayan, Sunidhi Chauhan and K K pack in quite a collective punch, Fitna lacks that extra 'standout' something. But the remixed version of the same, accompanied by Joy's funky rap, catapults it at once into the chartbuster league.
Trust Chauhan to trickle quiet sensuality in the breezy albeit predictable
Dheere dheere
. That said, Chauhan's version falls pallid in comparison to the one featuring K K, which is by and large more appealing.
Fleetingly cute and pleasant in parts,
Mera mann
celebrates the first rushes of love in the voices of Udit Narayan and Alka Yagnik. Nice? Yeah, okay! Repeat value? None!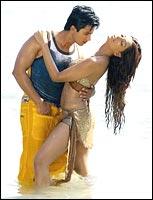 In
Sarfarosh
, Jagjit Singh expressively rendered the romantic melody,
Hoshwalon ko
. Here, the Ghazal maestro scores with
Tu hai shikhar
. Packaged in a prayer format and dripping with philosophy, the title song is both compassionate and dulcet.
There is something fishy about
Aap ko samjha
. The love duet sounds like a whole lot of numbers you have heard somewhere sometime. At times, it is reminiscent of
Dil ke armaan
from
Nikaah
. On others, it bears similarity with
Kamse kam itna kaha hota
from
Dil Tera Aashiq
. Sherlock Holmes, where art thou?
Megha re megha
flashes booming
jhankaar
beats stereotypical of a typical
'basti'
(chawl) number. There is nothing remarkable lyrically or musically about this run-of-the-mill song.
Ash Chandler rants and raves in the ultra wannabe
Vaga
. It's not rap. It's not reggae. It's not techno. And it's definitely not cool.
Barring some lukewarm compositions, Viju Shah's work in
Shikhar
is awfully uninspired. Without meaning to sound reprimanding, I must say one expected better from both Shah and Matthan.
Hope the film turns out better.