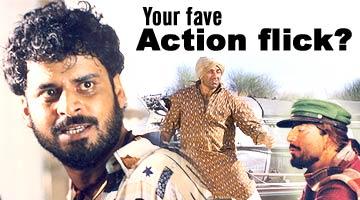 Bollywood is as much about dhishoom-dhishoom as it is about naach-gaana.
Our filmi traditions have always included mustachioed villains and hardcore heroes, loads of high-flying kicks and death defying leaps. We've always liked to spill blood in our films, be it after being clobbered by Amitabh Bachchan or while reeling from a Nagarjuna punch.
And our most memorable sequences include Mithunda or Rajnikant battling their way, wounded and bloody, through dozens of leather clad goondas.
Now, you tell us which film you think is Bollywood's best action movie.