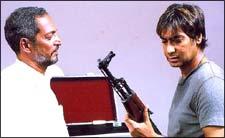 As Sir Paul McCartney recently sang, 'There's a fine line between chaos and creation.'
Apaharan starts out as a well-intentioned film, not pulling many punches as it gives you a heavily simplified look at Bihar's kidnapping industry. It ends, however, a melodramatic drag. Prakash Jha's film walks the tripwire straddling brilliance and buffoonery, and emerges diluted, a wishy-washy film; albeit with punch.
Ajay Devgan plays Ajay Shastri, and does -- for the most part -- pretty okay. He is an underachiever, and no one the world looks up to. His girlfriend Megha (Bipasha Basu) is content to pooh-pooh his pain away, and his father, Mohan Agashe, is perennially condescending. The father is an idealistic crusader -- one of those old men who believe in absolute honesty --and refuses to give in to notions of corruption even to get his son a job.
All this is happening while Tabrez Khan (Nana Patekar) is strengthening his stronghold over Bihar's supremely lucrative kidnapping sector. The cops are obviously pocketed, except for a couple of men who get their police caps knocked off their heads. Tabrez is all-powerful, everything from iconic public servant to gunrunner.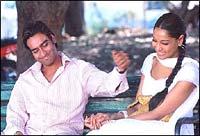 In an attempt to raise funds before gunmen shoot down his father, Ajay and his buddies (a ridiculously self-sacrificing and subversive gang -- especially in the light that Ajay is such an utter loser) decide to kidnap a man and drop him to the middlemen. A not-so-great adventure follows, as they manage to crash their getaway car and end up hijacking an auto-rickshaw. But things aren't as simple as they seem. The contract is cancelled, and the man refuses to pay. It is at this crossroad, stemming from a life of perpetual disillusionment, that Ajay snaps, and holds a gun to head.
Exclusive! Ajay Devgan on Apaharan
Jail follows, and dad hangs head in shame and looks at son in disgust. Bipasha Basu turns up, seen here for about two consecutive scenes -- quite a feat for her nine-minute role. Anyway, as sobbing girlfriend, she is told to buzz off. 'Don't associate with criminals,' says Ajay, suddenly hardened after his face is bashed in and he has licked a hooligan's spittle off the ground.
This new Ajay is b-b-b-bad to the bone. Deciding to switch gears, and allured by the trigger, this is a man with a sudden spurt of leadership and incentive inside him. He knows he needs to join the kingpin, not challenge him, and ingenuously becomes Tabrez's shadow, black attire and all. Khan showers power onto the rookie, who laps it up eagerly even as he brings streamlined professionalism to the existing operations. Everyone is happy, except a couple of honest cops.
Will Apaharan give Devgan a hit?
Nana Patekar is the best thing in the film. Ruthless, intelligent, articulate and powerful enough to show a few chinks of emotion through his hyde, Tabrez Khan is a great villain. This is Sarkar as he ought to have been played. While Nana has built a career on these roles, and can believably phone in performances like this one, he is so into the character that he dominates the screen. His physical fitness allows for a terrific moment when he walks into Ajay's skip-rope, and the two jump in perfectly timed unison. Wow.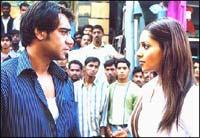 It's good to see Devgan finally doing a good film, after a terrible year so far. The actor is believable for the most part, but there are moments of high emotion where he overdoes it tremendously. The end of the film sees him hamming a lot, but maybe at that point he's just trying to follow the footsteps of his faltering director.
That Jha is a talented filmmaker is no revelation, and his film begins with great intensity. It's a taut film, and while there are segments in it that are simplified and dumbed-down, you overlook it. But that's the first half. Just after the interval, when Ajay meets Tabrez, is where the story gets meaty, as Ajay embarks on his Goodfellas-like rise to infamy.
Unfortunately, not long after that, it gets too much to handle, and suddenly we get mouthfuls of cliché and much melodrama. The film's climax seems a hurriedly written one, a tame resolution not in keeping with the characters. If only the climax flew by as quickly. Even as the events unfold (with more than a tiny degree of predictability), they are shown to their fullest, languorously. By the time the last 20 minutes of the film come around, you just want the credits to roll. Abruptly? Oh please, anything's better than the end we were eventually subjected to.
The truly brilliant part of the film is the dialogue. With a crisp and clever use of metaphor and idioms, the lines pack a terrific, applause-worthy punch, especially in the hands of a very talented cast. At the end, however, even the words become maudlin as the prodigal son sobs and the blood drips.
Jha has been trying to make a film that would balance both commercial and art aspects of filmmaking, but with this attempt, he takes the audience for fools, and ends up making a good film that turns into yet another Bollywood farce.
While the first half while see theatres whistling and hooting, the second half might just see many of them leaving before his film climaxes.