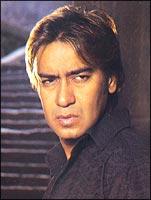 On the eve of his film Apaharan being released, we catch up with Ajay Devgan and bombard him with questions. Why he picks a film, what working with Nana Patekar and Bipasha Basu is like, why is he doing TV commercials now, the National Award controversy, remaking Sholay. We ask. And he tells us all...
Prakash Jha and I are good friends. When you do three films together, however, it's not just because you are friends. He is also the kind of director who will come to me only if he feels a character suits me. I liked the script too, which is why I did Apaharan. Also, I think he is a great director.
As the title suggests, Apaharan is about kidnappings that are on the rise in our country. It's the backdrop to a tale about a father and son. It's about a man who wants to do something in life but isn't very clear about how he's going to do it. The father is a man of strong principles. The son goes to the other side of the system, realises his mistake and wants to come back. The difficulties he faces are what this film is about. I don't know if Prakash Jha has picked any real life incident for the script, but he has definitely been influenced by them. I took up this assignment because of the script and my character. Apart from that, filmmaking is all about teamwork. Considering I have worked with Prakashji earlier and like his style of work, everything fell into place.
Nana (Patekar) is a great actor. He is a fun-loving, non-interfering person and we had a nice time. I wasn't the only one playing pranks on the set. Nana and Prakashji were also involved, as were a lot of others. We play pranks because, while working on a film, you end up spending more time with the cast and crew than with your family. I think you have to enjoy your work. I didn't play any prank on Nana because he is my senior, and neither did he play any prank on me. Please don't ask me about the pranks we played. Ask Prakashji, as he was involved and he is very good at telling everyone about what we did.
Will Apaharan give Devgan a hit?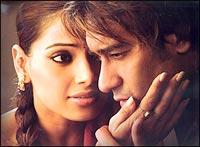 This is my second film with Bipasha. We did Zameen before, although we didn't have any scenes with each other. But while shooting for Apaharan, we did Shikhar, which will release simultaneously. She is a great person. We had a good rapport. She is chilled out and does her job well.
My second National Award wasn't controversial. There was just this one person who thought his film deserved it and he got upset, so people said it was controversial. It was clear that the jury supported me though. It was a unanimous decision and wasn't influenced by anybody.
I didn't opt out of Aparna Sen's Gulel. There were some date issues and I was completely occupied.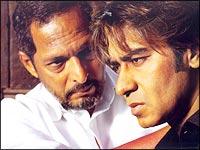 This year was bad for me, but I think that's part of the game. If you know which film is going to work, you will never have a flop in your life. Sometimes you make mistakes and learn from them. Sometimes you do something just because of your relationship with someone, or out of pressure. I select my scripts instinctively. Either I like it or I don't. Then, I think about it, whether the director and team are capable, before deciding whether to do it or not. When you do a movie, you know if it will work or not when it's halfway through. You know when things have gone wrong and aren't shaping up the way you thought they would. Then, you get mentally prepared for it not working.
My Tata Indicom ad is doing really well. It has got a great response as sales have gone up. I didn't do commercials before not because I had something against them, but more because I'm lazy. I didn't want to do them until I gave one a try. It also depends on the product and how decently it is done. And no, it's not as if I'm only going to do ads with Kajol. I'm not doing any movie with her at the moment either.
Ajay Devgan, live on rediff.com!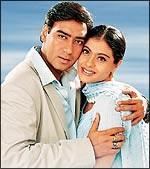 We spend enough time with Nysa as Kajol is just doing one film now and it's almost done. I have cut down on work too and have days off.
I have lost weight because I have been running a lot. I think it looks nice on screen. I do a lot of weight training. I am completely lean-muscled but prefer this thin look to a bulky one.
I have not produced any movie after Raju Chacha, but I am planning to produce one next year. Nothing has been finalised yet. For the moment, apart from Apaharan and Shikhar, I have almost finished a comedy called Golmaal. Then, I have movies with Abbas Mastan, Raj Kumar Santoshi and Ram Gopal Varma.
Yes, I used to do lot of action movies, but it wasn't an intentional change. I just got the right kind of directors and scripts at the right time. I love doing action movies and still do them, but times have changed and you have to change with them.
I am doing Ram Gopal Varma's remake of Sholay. I will be playing Veeru's character, played by Dharmendra in the original. I think it will work and I will be able to justify the character. It will be done differently, placed in our time. I have done two films with Ramu and we are comfortable with each other. I think classics should be remade. It happens in Hollywood and around the world. It's not maligning a film, it's actually paying tribute. People try remakes just out of respect.
You do your films in the hope that they will all work. But one never knows. Right now, I don't think I have any movie that will not work. I don't expect anything from Apaharan, but I think the film is very good. Personally, I think it is better then Gangaajal. It is Prakash Jha hitting peak form.