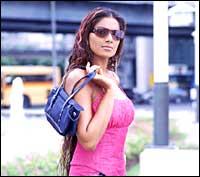 For those who bought tickets to Indra Kumar's Masti, this ought to give you a bout of deja vu. Anees Bazmee's No Entry deals with the same issue. Cheating husbands.
Another thing both films share is the initial audience response. Like Masti before it, No Entry is poised to be a hit. The people I watched it with laughed continuously. They applauded dialogues. They smiled and clapped. And yes, there weren't many double entendres, which means the embarrassment factor was kept to a minimum -- always a good idea when aiming for a diverse audience. If a film requires a certain punch to become a hit, then, No Entry has the right ingredients.
The movie swings between the lives of three friends: Kishen (Anil Kapoor) is a good husband, but is always looked at with suspicion by his wife Kajal (Lara Dutta). Prem (Salman Khan) is a flirt, but is trusted implicitly by doting wife Pooja (Esha Deol). Shekhar a.k.a. Sunny (Fardeen Khan) loves wife Sanjana (Celina Jaitley), but has a whole lot of restrictions imposed on him.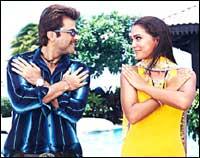 Prem convinces his friends to look outside their marriages for happiness. He introduces them to Bobby (Bipasha), a nightclub dancer, promising her money if she manages to seduce the guileless Kishen. The plot that unfolds is an old one. The treatment given is not unusual either. What works in No Entry's favour is its cast.
Proof that good actors can always breathe new life into a worn script.
Anil and Salman perform well, although Sallu, unfortunately, isn't around much in the second half. Lara does well, while Esha has a guest appearance. The only weak pair is Fardeen and Celina. Boman Irani and Pratima Kazmi are also wasted. As for the music, Anu Malik doles out some good stuff, especially the title track Ishq Ke Galli.
No Entry seems like a decent movie that should do well. It leaves me with a question though. While comedies about cheating husbands abound -- Sajan Chale Sasural, Biwi No 1 and Masti come to mind -- why aren't movies about cheating wives lapped up as eagerly? These -- Murder, Astitva and Silsila, for instance -- usually fit into dark, serious genres. There are rarely given the comic treatment.
If we can watch men sleeping around, and laugh about them, why can't we do the same with movies about woman having extramarital affairs?