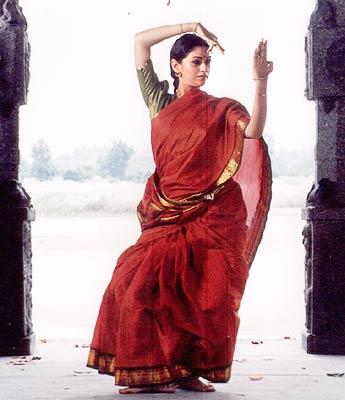 Generally, the phrase 'crossover film' makes you think of
desi
s in America. But when Sharada Ramanathan decided to be a crossover filmmaker, she chose a subject rooted in India -- the
devdasi
tradition of South India.
"Indian and world cinema and their attempt at 'crossovers' have largely been dominated by linear exchanges between Hollywood and the rest of the world," says Ramanathan, who has been working with the Ford Foundation. 
"This has led to standardised audio-visual images rather than diverse windows of culture. Such efforts do not always ensure acceptance of Indian cinema by Indian and world audiences."
Her first feature film Sringaaram – Dance Of Love is about a devdasi, a temple dancer of the 19th century. The devdasis of Tamil Nadu were the repositories of the traditional arts, especially classical music and dance.
"While she (the devdasi) was considered a nithyasumangali (auspicious one) in the artistic space, she was considered a lower caste in the social space; and her quintessential expression was sringaram (layers of poetic love), whether in oppression or liberation," Ramanathan adds.
The debutante director says the story exemplifies feminism, womanhood and emancipation, which was present even 100 years ago.
Ramanathan has got some of the best in the business working for her -- Padma Bhushan Lalgudi G Jayaraman has composed the music for Srigaram, cinematography is by Madhu Ambat, art direction by Thotta Tharani, editing by Sreekar Prasad and choreography by Saroj Khan.
Aditi Rao Hydari, an accomplished Bharata Natyam dancer, plays the role of the devdasi Madhura. Manoj K Jayan plays Sukumar, another key character. Jayan is one of the most talented character artistes in Malayalam cinema. One of his most famous recent works was in Santosh Sivan's Anatha Bhadram.
Text: Shobha Warrier