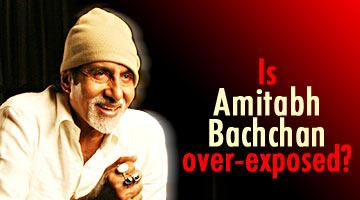 There's no denying that Amitabh Bachchan is a megastar, a legend, and everyone wants a piece of him.
Whether it's endorsers who pay crores for a few seconds of him, or filmmakers who feel it is their ultimate dream to direct him. And Amitabh rarely says no.
No wonder then, we find him on almost every hoarding, every television channel, every Friday release…
If he were to give us movies like Black every week, some of us would not mind at all. But does he have to do all and sundry films like Ab Tumhare Hawale Watan Saathiyon, Hum Kaun Hai, Kyun…! Ho Gaya Na, Armaan, Boom?
Not to forget his long list of endorsements from soft drinks to banks to pens.
Are we seeing much too much of Amitabh Bachchan? Is he over-exposed? Or do we love him so much that we cannot get enough of him?
Share your views with rediff.com readers, mail us!