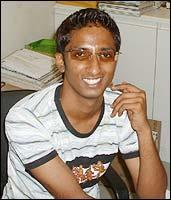 A
mit Sana, the runner-up on the
Indian Idol
reality show, arrived at the 
rediff.com
office on April 6, for a live chat with our readers.
The 22-year-old singer charmed everyone as he signed autographs, posed for photographs and sang a Sonu Nigam number.
And he answered readers' questions with keen interest.
For those who missed the chat, here is the first part of the transcript:
Amit Sana :
Hi guys, this is Amit. I am ready to take your questions!
---
RajivManiar :
Hi Amit, you were mind-blowing in the KISNA song
Amit Sana :
Thank you Rajiv. I am happy that you liked my efforts!
---
Sanya :
hey Amit have u arrived???
Amit Sana :
Yup, am here!
---
Neelmani :
ooh Amit Sana is already a star!!!! hahahaha !!! stuck in traffic it seems!!!!
Amit Sana :
Hi Neelmani, How are you? Sorry I have made you wait long. jo bhi poochna chahte ho, poocho!
---
SanchiVerma :
Amit, Can I ask your favourite Color
Amit Sana :
I think the whole world knows that it's Red! Just joking! But there are various other colours that I like.
---
Pavan :
HEY Amit this is Pavan here...how does it feel to loose after coming so close to winning?
Amit Sana :
Hi Pavan,At that moment, it felt terrible. But then I realised that something bigger is waiting for me. So I am now eagerly waiting for it to happen!
---
deepa_jtp :
Do you believe that's now it's really challenging time to prove yourself after the Indian idol result , I mean to say your real competition with the playback singer starts now??!!
Amit Sana :
Hi DeepaYa, it's true. The real competition has started now. And my competition is with established artists. It's really difficult to make your way in the industry. But I am thankful to God that He has given me such a nice platform. So I cannot let Him down.
---
Faisal :
So Amit Howz the Sky and stars these Days ..U ARE A STAR NOW..
Amit Sana :
The sky is pretty nice, but there are too many stars! Afraid of getting lost!
---
apoorvkhare :
Hi Amit, tell me honestly, Are you comfortable with these sudden celeb status and showbiz?
Amit Sana :
Hi Apoorv:I am not very comfortable. But I am trying to be!
---
raushni :
Amit when is ur solo album coming ?
Amit Sana :
Hi Raushni:The album is being recorded. You will see it in the market soon!
---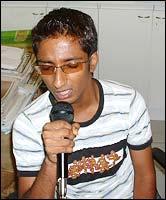 gopal :
HEY AMIT YOUR VOICE WAS EXCELLANT IN MURHABA SONG BECAUSE SINGER LIKE SONU WAS LITTLEBIT CONFUSED THAT WHO SING SONG BETTER AT THAT TIME I WAS VERY HAPPY BECAUSE I THOUGHT A NEW SINGER IS BORN AUR AB O SAB KI CHUTTI KARNEWALA HAI
Amit Sana :
Thanks, Gopal, for believing so much in me!
---
ravigupta75 :
Hi Amit, Hope you have been able to cope with the pressures that come along with Celebrity status.
Amit Sana :
Hi RaviI am trying to cope with it. It looks so flashy from outside, but so difficult to handle it.
---
SomeoneCool :
Hey Amit.. your voice is very similar to Sukhwinder and when u were singing Kisna I really couldn't figure out it was you but my question is.. could u tell us honestly if u had crush on anyone in Indian Idol if yes then who? Please be honest!
Amit Sana :
Hi SomeoneCool:Seriously, I never had a crush on anybody at the Indian Idol. Because one is 17 and the other one is 25, and I am 22, so no chance!
---
Garima_2005 :
Out of the songs sung by you which one is the closest to ur heart?
Amit Sana :
Hi Garima:Mohabbatein lootaoonga is closest to my heart.
---
goeldeep :
Hi Amit, don't you think some good singers were thrown out because of voting procedure in the last rounds, we really missed Rahul Saxena ?
Amit Sana :
Hi Goeldeep:Even I missed him. Even I was shocked. But what has to happen, has to happen. Life is all about getting shocks!
---
priy20 :
hi Amit, I am priya, hello Amit, Pls let us know your girlfriend's name..... pls........
Amit Sana :
Hello Priya:I don't have any girlfriend! If you believe me! I have so many options. How can I rely on one?! Just joking!
---
girlie :
HOWS LIFE WITH UR LOVE ADITI PAUL
Amit Sana :
There's nothing between us! I didn't even mention about her. It was just a misinterpretation of the interview. If you believe me!
---
satya :
Hi, AMIT....when can I see in telugu ...singing telugu songs..commom tell...being telugu bida ;)
Amit Sana :
Hi Satya:I am very happy to hear this from you. I guess it will happen very soon!
---
SanchiVerma :
AMIT, HOW MUCH TIME DO YOU SPEND WITH YOUR FAMILY, WHAT IS IMPORTANT FOR YOU? FAMILY VALUES OR YOUR LOVE.
Amit Sana :
I am not in love at present, but both are important. But I am sure I will be able to manage both simultaneously!
---
SeriousQn :
my wife had tears in her eyes when u came second. We would have done at least 500 sms to you, which our bill showed later :). But what hurt us the most was there was no immediate announcement from Sony about awarding any contract to you, given that they had immediately declared the same for Rahul Vaidya. It seemed a little unfair at that point. I don't know what followed thereafter as I lost interest in news related to Indian Idol.
Amit Sana :
Hi:That was really great on your part. I really admire you at the amount of effort you made for me. But let me tell you, that I am also in contract with Sony. Soon, my album will be out after Abhijeet's.
---
Don't miss the concluding part of the Amit Sana chat transcript tomorrow!
Photographs: Anthony D'Costa