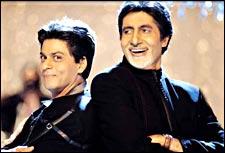 It's the casting coup of the year: Amitabh Bachchan and Shah Rukh Khan. And who is better power-equipped to pull off this mega combo than Karan Johar?
In what promises to be the grandest finale ever, the Big B and SRK will feature as Karan's guests on the final episode of his chat show, Koffee With Karan.
For the climax, Karan wanted something "incredibly spectacular!" And what can be more so than the two biggest superstars of our times?
This mega-event, to be telecast as the final segment of Star World's Koffee With Karan at May-end, was secretly recorded on the night of April 4. That isn't all. The enterprising host got three directors -- Sanjay Leela Bhansali, Farah Khan and Farhan Akhtar -- to come on the show and talk about the two stars.
And the women weren't left out, as Karan invited Shah Rukh and Amitabh's favourite co-stars, Kajol and Jaya Bachchan respectively, on the sets to talk with and about the two megastars.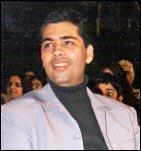 Quite a Kabhi Khushi Kabhie Gham on television, huh?  "That you'll just have to wait and see. Right now, I'm not saying anything about the grand finale," chuckles Karan Johar.
"All I can say at the moment is, I've had a ball doing the show. Koffee With Karan has opened a new door for me, and has made my audience look at me as a different entity. I'm no longer asked what film I'm making. I'm asked whom I am recording my next Koffee segment with. Whenever I'm seen having coffee at a restaurant, I'm thrown a Koffee joke! Everyone thinks he got there first. Little do they know that I've been besieged with such jokes ever since I began the show. But now, I've had enough. I need to get back to making a film. But I'll be back with Koffee next year."
Before this season ends, Karan hopes to record episodes with Shahid Kapur and Esha Deol, Rishi Kapoor and Neetu Singh, and Hema Malini and Zeenat Aman.