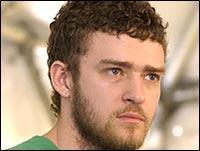 Pop singer Justin Timberlake is reportedly all set to star in the next Die Hard movie as Bruce Willis' son.
Bruce, who met Timberlake on the sets of Alpha Dog, was so impressed with Timberlake's performance that he signed Timberlake up to play John McClane Junior in the fourth installment in the Die Hard series.
'The film has got a great cast with Sharon Stone, Bruce Willis, Justin Timberlake and a bunch of people my daughter recognises but I don't,' Fox News quoted movie boss Alec Gillies as saying.
Photograph: Getty Images