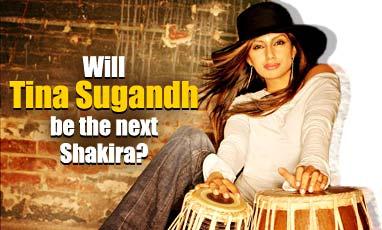 Songstress Tina Sugandh recently made the news by landing a contract with a major American label, Hollywood Records, home to everyone from pop confection Hillary Duff and Queen to Cal-Mex rockers Los Lobos and this year's novelty act, the unfailingly upbeat choral-pop ensemble Polyphonic Spree.
Her album Tablagirl is due out early next year, and as the title suggests, Tina is more than a hot chick with studio-enhanced pipes. She has played the tabla since she was a little girl, as well as the dholak, traveling with her musically-talented family to performances around America and in the Caribbean.
As she got older, Tina picked up the guitar as well, working her way through the heavy metal canon (she claims a mastery of the Metallica repertoire).
Her break came when Bob Cavallo of Hollywood Records heard her music and signed her on last May. Her River of Dreams was featured on the soundtrack to the Jackie Chan remake of Around the World in 80 Days, where it generally got better audience reviews than the less-than-stellar movie itself.
Tina grew up in New Jersey and graduated with a biology major from Rutgers but moved out to California a few years ago along with her parents and then-newlywed sister. She spoke to Prinicipal Correspondent Arun Venugopal recently.
When did you land your record deal?
Around December 2002. I have been in the studio ever since. I am still in the studio. I wanted to make an album of the best reflection of who I am. I guess I probably wanted it to be too perfect, but it's so worth it because I'm so proud of it. It's everything I wanted it to be. I started the album process not 100 percent sure of how much of the South Asian culture to put in there. I guess that's why it took two years.
Over two years in the studio. Isn't that really expensive, for you as well?
It was. It is a lot of work. I thought the album would be done in a few months but I wanted to make sure it was not fabricated or something I was trying to force. There are people in Middle America who have never heard a tabla before. I wanted to make sure they would hear my album and say 'Wow, this is really cool.'
I also wanted to make sure people straight out of India would love it as much.
What distribution are you expecting? What about radio play?
It will be worldwide. I got offers from record companies in the United Kingdom. I was fortunate for them to offer that, but I knew I wanted to take the harder route as it hadn't been done in America. I wanted people to be exposed to the richness of South Asia. The whole Latin explosion that happened... there needs to be an Indian explosion.
Do you have tour plans?
I do not, although I know I probably will be touring. I'll be in the studio for another three months. My managers and I decided to go to the South Asian community first, as I'm the most grateful to them. I owe everything to them.
Do you have any method to song writing, any schedule?
Song writing is recording, too. I wrote the whole album, so writing has been a part of my life as much as studio in the last two years. I really could not imagine singing other people's lyrics. My favorite message is self-empowerment. Being cool is overrated. I don't' care what everybody thinks of me. You don't have to be rebellious or cool. Just be happy. Since I could write my own album I could get the messages across.
There are also family values. I live for my family.
You did an interview with Stuff magazine, which is quite raunchy, and sure enough, they asked you about the Kama Sutra and positions and... What were you thinking?
Yes, well, I have my lines. I'm very stubborn. I won't cross them.
They just try to get some dirt out of you. I really don't have any. I'm sure it was the most boring interview they have ever done.
Is there a drawback to being attractive and a musician? Are you taken less seriously?
I wouldn't know. Is that a good answer? I really don't think about looks. I think about image. I think image is important. I look very much like I'm from America but I definitely have that exotic Indian look. This whole thing has been about proving myself, and that's something I really enjoy. I'd like to think I'm somewhat intelligent. Everyone told me I wouldn't have a huge role in the album, and to be perfectly honest, that hasn't happened at all.
Once the producers realised I would be performing my whole life. No, I've never been treated as somebody less intelligent.
What can you say about your producer, Lester Mendez?
Lester Mendez has done Shakira and Enrique Iglesias, Jewel. He's an amazing producer. He's so humble.
What are some of your favorite albums?
I loved all music, growing up. Rap and heavy metal. My favorite album of all time was Appetite for Destruction. When I got it my mom looked at the skulls on it and said 'Hmm.' I love the Red Hot Chili Peppers. I love rap, too.
Right now, Outkast is great. G-Love. Really, just everything. As for South Asians, I love ghazals. I love Hariharan. He's my favourite. There's some music I probably need more exposure to. I definitely need exposure to jazz.
What about this summer?
The only thing I listen to is my album. I really don't give myself the pleasure of listening to too much music.
Is there any rock star you almost stalked, growing up?
There's wasn't any particular person I was obsessed with. I saw the Red Hot Chili Peppers in concert. I loved Metallica but wouldn't have gone to a concert as a child. I had metal posters, like Soundgarden.
Is the music industry as cutthroat as they say?
I've been so fortunate. My manager shields me from the evil side of it. My managers are the best. There will be little problems but I've never run into them. All I've had to do was prove myself. The greatest advantage is being Indian. Producers couldn't really tell me what to do. It's so new they couldn't say what the proper Indian way would be. If I said, 'Let's put a dholak on it,' they couldn't say anything. They had no clue, so it was great.
With your career on the ascent have there been opportunists?
Nothing to me is worth compromising my values for. There was one person who is extremely huge in the industry to work for, and initially I had meetings. I'm sure he could have helped my career a lot. It was just the way he talked.
He was a bit lewd. It wasn't a lot, but I tend to be reserved. So I might miss out on opportunities but I really don't care.
Did your parents have doubts about your choice of career?
There was a little bit of that. We were eagerly waiting, wondering if this was the right thing, sure. I had my biology degree and I could have easily gone on to medical school or into the biology field. Every six months they would sit down with me and talk about it. But it was never them against me. My parents' motto is, 'If my children are going to be happy I'll support them.'
You grew up singing in a number of languages, didn't you?
We grew up singing in Hindi, Sindhi, Gujarati and Marathi. I would sing in English. My parents would help me.
Are there any ethnic artists you particularly respect or who serves as a role model?
I don't think there's one artist that's my role model, but definitely certain aspects. The way Jennifer Lopez addresses her Latin community, I think that has helped the community. They really reach out to her and respect her. Shakira is great. I like the way she takes her whole family on the road with her.
Any inspirations? How else do you spend time?
At night I try to answer fan mail. I try not to just say, 'Thanks, bye!' I've been doing that recently.
Any plans to go to India?
I'm definitely going to go to India, to make the video. That's home to me. I was born in Mumbai. My nani's house is in Mumbai.
What band would you ideally open for?
It's so difficult as you tend to go on the road with people who are a little bit like you. I would be thankful to go on the road with anyone.
Milli Vanilli, anyone (laughs).
Image: Uday Kuckian