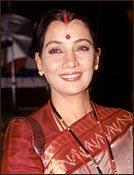 Shabana Azmi ruled parallel cinema in the 1980s, making her niche as a serious actress in the clutter of glamorous stars. She was also a Parliamentarian till recently, and always speaks her mind, be it on women's rights, housing for the poor or the Gujarat riots. 

Her last film, Tehzeeb, disappeared without making an impact; box office failures, however, have never fazed her.

"I did hit films like Parwarish and Amar Akbar Anthony, but got brickbats. My fans questioned me, what is Shabana Azmi doing in these films? They didn't say that of Parveen Babi and Neetu Singh but only of me. So I realised that even within mainstream cinema, I needed something substantial. I then did important characters in films like Swami, Avtaar, Masoom, Arth and many more," Shabana told News Editor (Entertainment) Syed Firdaus Ashraf.

In her latest film Morning Raga, Azmi acts with Perizaad Zorbian and Prakash Rao. The film, directed by Mahesh Dattani, releases on October 29.

What is your role in Morning Raga?

I play Swarnlata, a Carnatic singer who lives in a village and nurses an ambition to become a concert singer. On her journey to her first concert, the bus meets with an accident and her best friend and son die. Guilty, she blames her ambition for the tragedy. She starts living in isolation after the incident and suppresses her ambition.
Then, Prakash Rao walks into her life. He's a young rock musician fed up of making jingles in the city. He wants to make music that lasts. He comes to the village and hears Swarnlata's voice.
So the film is about him coaxing, bullying, cajoling her to sing in the city for a fusion concert. Perizaad's character has her own problems. Through music, she becomes a student of Swarnlata and developes a warm bonding with her. All three main characters find their release through music.

Did you do any special kind of preparation for this role, as you are playing a Carnatic singer?

I was terrified when I heard the music. I felt it would be an impossible task to embark upon. It was completely unfamiliar, and I am not a trained singer even in Hindustani convention. But I took it up as a challenge.
It is to the credit of my young Carnatic music teacher, Ranjani Ramakrishnan who is also a violinist. She also plays my friend Vaishnavi in the film. It is entirely due to her perseverance that Perizaad and I got Carnatic a bit right in the film. She is like a football coach.
I also looked at music videos of M S Subbulakshmi and Shubha Mudgal but they are established singers and their airs and manners are different. I had a few lessons in Mumbai, and later I made Ranjani come to Delhi. I learnt in bits and pieces. All in all, I had 18 to 22 lessons.

What did you learn about Carnatic music?

There is a spiritual quality to it that you have to internalise. It invades your entire being in a manner that is inexplicable. For North Indians, Carnatic music is unfamiliar. They are not aware of the fact that it is quite accessible. In fact, after hearing it you get enchanted like I have been.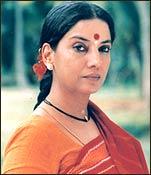 Are you missing Parliament now since your term as an MP is over?

I am so busy. I don't know what it is about me, that I never have a single moment to breathe. I had thought that after Parliament I would have time for myself. Believe me, it has been a whole year and I haven't had a single moment for myself.
I have been traveling; I did a film in Los Angeles called Water Borne. I presented a Bill on housing for the urban poor. I reminded Congress President Sonia Gandhi and Indian Prime Minister Manmohan Singh that the United Progressive Alliance government has promised to solve this problem.

How do you manage all this with your time?

I am exactly like my father (the late poet Kaifi Azmi). I am genetically coded like him. There is nothing I can do about it.
My husband Javed Akhtar says Shabana is either 90 degrees or completely flat; there is no flexibility. I was in the hospital for four days with my mother because she went through a cataract surgery. It is very important for me to be with my family because they are my strength.
They make lot of adjustments for my busy schedule. I desire to be with them and that is something I have not been able to do as successfully as I would like. 

Are you feeling bad about being absent from Parliament while the UPA government is in power?

Not really, because in a sense I have far more confidence that many of my concerns will be implemented because of the presence of the Left parties. During the Bharatiya Janata Party rule I could put up a forceful opposition, but here I am sure that several of my concerns particularly with regard to housing, women and education will be met.

Do you think the BJP didn't treat you well in your term as an MP?

I was treated extremely well. I didn't take sides, as a nominated member of the Parliament by the President of India. I was very vocal about the issues I was concerned with. I think my strength was that I had an independent voice and my weakness was that I had no MPs behind me in full strength.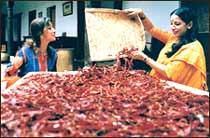 Tell us about your film, Water Borne.

The film is directed by Ben Rekhi, he's half American and half Sikh, and a graduate from New York University.
I play the slightly racist owner of a convenience store. The film is about a terrorist threat to the water system of Los Angeles. I immediately hike the price of water much to the horror of my son. My character also doesn't like the fact that her son is going out with an American girl. She then becomes a victim of a hate crime because of raising the price of water.
This leads to a great deal of violence in her peace-loving son. She then realises what a vicious cycle of violence this can unleash. She then reconciles with his American girlfriend and she realises that reconciliation is a two-way process. If she wants people to give up their racial discrimination against her then she should also give up her racial discrimination against them.
Post September 11 and the Gujarat riots, I think it is an important statement to make. We have to move beyond the hurt and talk about healing which can only happen with reconciliation. Of course, I am not saying there are easy answers. I don't think reconciliation can happen unless justice is perceived to be done. A lot still needs to be done particularly in Gujarat.

Where have you shot the film?

Los Angeles. Particularly in Artesia, which is a largely Indian populated area. It is interesting because the film has many people who are the children of my colleagues. Jag Mohan Mundhra's daughter is the producer of the film. Zakir Hussain's daughter was also in production team. It is an independent film, not a studio film and the atmosphere was lot more informal.


| | |
| --- | --- |
| | More on rediff.com! |
| | |
What does box office success to you?

I have always wanted box office success but I am also realistic enough in terms of the kind of films I have opted to do. I have done successful mainstream cinema and it was very important for me. I never expected the kind of films I've been doing, especially in the last six years, to be huge box office hits. But I feel that they have enough of a niche audience for a producer to recover his money and to push the paradigms for Hindi cinema a little further.
I am confident that Morning Raga will do well in those parameters. It is not an art house film. It has a real and strong emotional story line.
Indian producers have realised that there is no pan-Indian audience. We have to remember our huge young audience. The most interesting thing is India living in the 19th and 21st century simultaneously, and it is important to reflect those contradictions in our film. The West sees India in 'spiritual' or 'drought' images, and that is a very sad thing. But the fact is that any city of India is like any other Western city.

Don't you think Aishwarya Rai and other actresses are rising in the Western world?

We have been given figures that 36 percent of those working in NASA are Indians and 46 percent working in Microsoft are Indians. These are huge figures, but for them to gain visibility in their literature, theatre and films will take a long while. We have a long way to go.

But films like Gurinder Chadha's Bend it like Beckham and Mira Nair's Vanity Fair are being noticed...

These are films that are produced there. A pure Hindi film will take a long time to succeed there.

How difficult is it for Indian actresses to make it big in Hollywood?

Very difficult. Eka Dukka ho jayenge. Blacks have just started being seen in Hollywood. The Asian actors have been demanding colourblind casting. They have been complaining of being put only in parts that require them to be Asians in the films. Can't they be professionals? They feel they should accord visibility according to their visibility in country.

How much has Javedsa'ab helped you in your career?

First thing is that Javed and I share the same worldview. That is the most important thing. The concerns are the same. He is as busy as I am. I think what is successful in our relationship is that we are each other's best friends who also happened to be married to each other. We give each other lot of space to be independent on our own.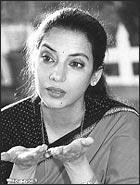 Where do you think his poetry and imagination come from?

He has a very sharp mind. It amazes me. He is very observant and has a frightening memory. I remember nothing and he remembers everything. He is a multifaceted man, be it poetry or politics.
Where do you see yourself in the next five years?

I never plan my life although it seems that I do. I see myself doing more of the same. The work I am doing is long haul and there is not going to be immediate results. My concern about housing for the poor cannot be solved overnight.
My father, Kaifi Azmi, once said something to me that has become the mantra of my life. He told me that when you are working for change you should build into that expectation with a possibility that the change may not happen in your lifetime and yet, you have to carry on working. If you do that, there will be no frustration.
So I think I will be doing more of the same thing in life. I will be an actor, or maybe I will be an out of work actor. But I will be an actor as I love acting.

Do you have any regrets?

I have handled my career well. If there are two parts in the film, I have an uncanny knack to choose the right role. For instance in Jagmohan Mundhra's film Kamala, people believed that Deepti Naval's role was more attractive, but I chose the wife's character because I felt the film was the wife's story.
The only thing I regretted was not doing Manthan because of date problems. I just could not do it. Smita Patil did that role instead. Shyam Benegal was very upset with me and then he gave Smita (the role in) Bhoomika. Bhoomika is the only film I would have loved to do.
What about commercial films?

I just don't have what it takes to be a commercial Hindi film actress. I look terribly awkward and out of place. I feel my commercial films have done well in spite of me and not because of me.