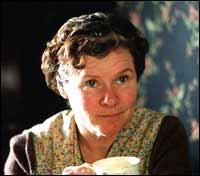 I
n igniting the screen with her finely etched performance, Imelda Staunton strengthens the immensely moving, stark and engaging 
Vera Drake
.
Using her eloquent eyes and her worn-out body, she reflects her inner agony and her frustrations in a knockout performance that should fetch her not just a nomination but the Oscar itself.
Like the best filmmakers director Mike Leigh (
Secrets And Lies
) proves again that a fine script looking deep into the human condition, a set of brilliant actors and a cameraman are all that one needs (apart from a few million dollars) to make a thoroughly engaging, though often bleak, film.
| | |
| --- | --- |
| | More on rediff.com! |
| | |
One of the most honoured films in recent times and shown at many film festivals, the movie, which won the top award at Venice, rolls out today to some 40 theatres in the US after an initial engagement in a few theatres.
This is not a film for box office records. It is too intense and demanding to be even a big art-house hit. But mature audiences will love it, having taken over by its simple but gripping narration.

Though far removed from the sunny and feel-good-films that dominate the movie screens, Vera Drake is nevertheless a honest and invigorating portrayal of a silent heroine.

The movie is set in 1950s England. Vera cleans houses of the rich for a living. Despite her strenuous chores that include helping her elderly mother and needy neighbours, Vera never seems depressed.

She also cares deeply for her husband Stan (Phil Davis), a mechanic at his brother's garage, their gregarious son Sid (Daniel Mays), a tailor, and more reserved daughter Ethel, a factory worker (Alex Kelly).

Vera also has a secret. She helps young working class women terminate their pregnancies. And though she could have made a lot of money performing the illegal abortions, she is carrying out her personal mission without any desire for money.
But she is also naïve enough to figure out that Lily (Ruth Sheen), a childhood friend who refers women to her, is profiting from her charity.

Leigh's film is more than a study of an idealist who has to pay a heavy price for her selflessness. It is also a film about the privileges and hypocrisies of the rich, personified in Susan (Sally Hawkins), the daughter of one of Vera's wealthy house-cleaning clients who manipulates a shrink (Alan Corduner) so that she can have a legal abortion.

Vera's complications start when one of the women in her care is nearly killed during the abortion and the police come to arrest Vera, during her daughter's engagement celebrations.

Stanton, who is magnificent throughout the film, gets even better in the courtroom scenes where she is confronted by a stern judge (Jim Broadbent). While she is the crowing glory of this meticulously scripted and directed film, the other actors also give carefully thought-out performances making it a memorable experience.