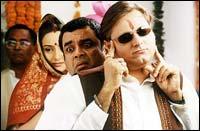 There are some films that pose in you an existential dilemma, and Hulchul is one of them.
Not by provoking profound ruminations on life, the universe, and, as Doug would say, everything, but rather crucially and sardonically poking a more personal, self-addressed question: how awfully can I possibly have sinned in order to have to sit through this painful, mercilessly raucous drivel? It's near impossible to justify this cinematic rusty guillotining of your neck, but then we have to keep things in perspective (and ourselves reassuringly consoled), so I'd urge you to ponder instead upon the dismal fortunes of the cast who are actually a part of this venture.
O' Four has been a thoroughly haphazard year, and God's been shooting dice with the box-office with gusto. In India, the hits of the year are an adulterous Hollywood remake, and a biker flick; internationally, a cartoon ogre and a wall-crawler, both sequels, made more money than Jesus and Homer combined. It's a turvy-topsy world.
The only consistent feature of this year, however, is that is has been the year of the Faltering Directors. From Oliver Stone to Mani Ratnam to Robert Zemeckis, this year has seen more celluloid mucking up by the respected 'greats' of the industry than any in recent history. If this is merely a trend of things to come, Farah Khan save us all.
| | |
| --- | --- |
| | More on rediff.com! |
| | |
Priyadarshan, in the last few years, has shown more than a little proficiency in comedy. His Hera Pheri, along with Rajkumar Santoshi's endearing Andaz Apna Apna, was one of the funniest films of the last decade, and firmly cemented Paresh Rawal as a new standard in credible comic acting.
Almost single handedly, the success and universal appeal of Hera Pheri resuscitated the purely comic genre in Indian film. His last outing, Hungama, continued in similar vein, and, while not as memorable as the earlier classic, provoked enough of a good-natured guffaw to augur well for satellite television reruns galore.
Hulchul is where things go awry. Watching this excruciating effort -- akin to slapping you in the face so hard you'll eventually crack and break into submissive laughter -- is sad, because you expect a far better product from the director.
It's also very puzzling -- watching an ensemble cast (mostly comprising) of talented actors, culled from stage, television and better cinema, reduced to script-less shambles would be understandable in the hands of a novice director and a moneyed producer, either gullible or aiming at a tax write-off. Here, it's hard to believe this film hails from pretty much the same crew.
The essential problem with Hulchul is that it tries to find that slippery twilight ground between comedy and drama, an admittedly formidable task. Goofing up with grandiose ambitions is more than forgivable, especially to a director who's worked well before, but this is no ordinary disaster. The film is not a comedy, despite what the promos make you believe, unless the sight of Arshad Warsi being rained upon by paan spittle regales you tremendously. Neither is it a drama, a ridiculously contrived face off between two families as clichéd as B-grade cinema of the 1980s. It's impossible to take it seriously, so it comes across as a spoof, minus the comic timing. Ouch.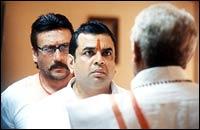 Grimaces are induced from the beginning, when the director cruelly introduces us to his matriarch, Lakshmidevi (Lakshmi) a lady who assaults your ears with screechy yells at every stage of the film, a process she embarks upon when attempting to coerce an elephant's bowels into synchronisation. She's the demented head of Family One.
Family Two, headed by the completely wasted Amrish Puri, shuns all womanhood. There's really not much else to say in terms of (we use the term loosely) plotline, except that these families hate each other, bay violently and unashamedly for blood, and helpfully listen to each other only when advocated to slaughter their own kin.
Most of the cast is talented enough to shrug this turkey off, and are possibly praying for its burial and utter neglect at the box-office. Arshad Warsi, as is becoming inevitable, reprises his 'Circuit' character, but the script ensures that his finest moments are pretty much those when his face is busy bouncing off the busy end of Jackie Shroff's elbow.
Paresh Rawal is the one you feel really sorry for, trudging through this tripe, but like a brave foot-soldier, he does as commanded, and even manfully elicits a few laughs.
Jackie Shroff really has nothing to do, but an explanation as to how he protected his rimless frames from harm while his head thudded around assorted walls and wooden beams would personally be rather helpful.
Kareena Kapoor is getting to a point where she can treat each film depending on how well it fares. She plays her cards with artful meows, claiming she works with films because of the director, resultantly absolving herself from all blame while earning Bollywood brownie points -- one can never have enough. To be fair, she has performed adequately here. In a film of constant excesses, she -- with the exception of the jarring songs -- has underplayed her role. It's nowhere close to a good acting performance, but, relative to what surrounds her, she isn't horrible.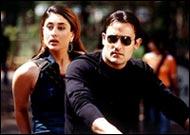 Akshaye Khanna could well end up being the film's tragic casualty. While the others can hide sheepishly behind their spineless, impossible-to-like characters, his 'Jai' persona suddenly sprouts some unused-to vertebrae and stands up for himself. This spurt of cojones, I take it, is to endear him to the crowds, but by now, it really is too late: he's been a lout, and he's not got the acting spurs to pull it off. Priyadarshan should have stuck to his guns and found his old cast member minus the silent 'e', but at least with the temerity to grin and let us bear it.
The film is a mess, a blunder of slapstick and camp, and, quite simply hurts. A lot of this is due to the constant shrieking and hoarse/shrill (Suneil Shetty/Lakshmi) yelling.
There is a scene featuring a huge vessel of glue, and Arshad Warsi can't figure out what on earth it's for. This is never explained, and it just functions as a hackneyed plot-device that the hapless Warsi falls into.
Hulchul, as a film, is worse than that glue-bowl: equally extraneous and redundant, but much more irritating.