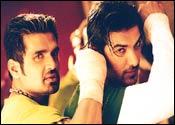 B
achhe log
popcorn
ko bhi chhod ke bhaag chale
[
Kids even left their popcorn behind
]," remarked one viewer pointing to the half-eaten packets left by the deserters. And he wasn't the only one ruing his fate as we walked out after the first day, first show of
Lakeer — Forbidden Lines
. Yes, those were the three longest hours of my life.
That will probably alert you that this review ain't gonna be pretty. So buckle up.
Really, what were actors Sunny Deol, Suniel Shetty, Sohail Khan and John Abraham, or, more importantly, choreographer-turned-writer-director Ahmed Khan thinking?
Here's a thought, though. It is a pity that we don't have the Bollywood equivalent of 'The Razzie Awards' honouring Hollywood's worst. For this film would definitely have been in contention to make a clean sweep.
From the tacky art direction (ever heard of hospitals with a 'CITISCAN' department? Or stadium seats being painted on to the sets?) to the garish costumes (purple lace shirts?!) and makeup (mercurochrome, where is thy sting?), this caper ought to be slotted as one of those 'things that make you go hrmphf!'.
Brotherly love takes a beating, literally, in Lakeer. Sunny Deol plays Arjun Rana, a don with a conscience, and he is as popular with people as he is with the police commissioner. Never mind the rather outlandish metal tie-knot he sports, the ties that bind him to family are foster brother Karan (Sohail Khan) and foster sister Bindiya (Nauheed Cyrusi).
Arjun, an orphan, was taken in and weaned into the mafia by Karan's real father, fondly remembered as Baba in Surajnagar, his basti. As the prosperous head of the business after Baba's passing, he is Karan's caretaker. Also entrusted to his care is Bindiya, another orphan Baba took in.
Arjun wants only the best for Karan and Bindiya. More importantly, he wants to keep them from taking the violent path he has trodden.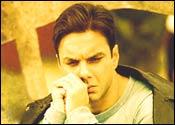 Suniel Shetty plays Sanju, the resident toughie-mechanic at Surajnagar. And the apple of his eye is younger sibling Sahil (John Abraham) who studies in the same college that Karan and Bindiya attend.
By the way, we are already done with a couple of songs and a car-race before these introductory formalities are complete. Also, what's with the goings-on in this college? Are we so naïve as to believe that cheerleaders, pompoms, and Kawasaki bikes are all there is to college life? With basketball team names like Tigers and Wolves and the remainder of this delinquent plot director Ahmed Khan churns out, one wonders if he ever had a college education?
To get back to the story, not that there is much to tell, Sahil has a crush on Bindiya, who reciprocates his feelings. But it suddenly dawns on Karan that she is the girl of his dreams too. Here's a triangle that ties the film up in naughts. For when one's brother is harmed, the other is up in arms. Oh, brother! How we wish they would use words instead of fists to do the talking, for we would put the film to the grave it deserves within the hour.
But with Lakeer, there is no such luck. The only respite is A R Rahman's music. But that too offers only minor consolation.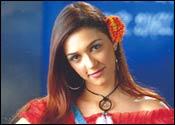 The performances are just about okay. But it's not the actors who need to take the blame here. Sunny and Suniel can't do justice with their badly etched characters. Sohail Khan is rather wooden. John Abraham had it far better with Jism. And whatever possessed ad-girl Nauheed Cyrusi to choose this film?
This is the second film directed by a former choreographer, after Farah Khan's Main Hoon Na, to hit the marquee this month. Though I cannot comment on Ms Khan's cinematic endeavour, for Mr Khan there's much to be said about core competence. And sticking with it.