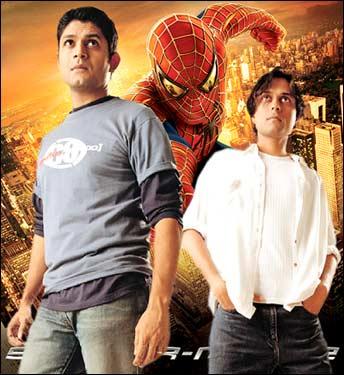 Our friendly neighbouring pop duo and our friendly neighbourhood superhero have joined hands to spin a musical web. Na jaane kyun, a track from Pakistani pop band Strings' recent album Dhaani, will feature on the Spider-Man 2 soundtrack, according to an announcement by Sony Music and Columbia TriStar Films of India.
"When we were approached by Columbia to do this track for Spider-Man 2, it was unreal," said Strings member Faisal Kapadia. "Spider-Man has been a favourite character of ours for a long time, so to sing a track for the worldwide film is an amazing opportunity," added partner Bilal Maqsood.
Kapadia and Maqsood, who hail from Karachi, have been touring Indian cities this month promoting their new album.
The Strings song will be a bonus addition to the 15 tracks on the Spider-Man 2 soundtrack, which Sony Music and Columbia will release on July 7.
"Spider-Man is truly a global phenomenon, which has also struck a chord with the Indian masses," said Shridhar Subramaniam, MD, Sony Music. "We are convinced adding a local language song increases the scale of the project by taking it to a new and larger audience."
Strings, he said, was a natural choice. "Not only are they extremely talented, the lyrics to Na jaane kyun seem to have been written for Spider-Man."
While devising the marketing plan for the Spider-Man sequel, Columbia TriStar was conscious of the superhero's global image that transcends religion, language, age and nationality, said Columbia TriStar Films of India marketing manager Harshvardhan Gangurde. "Hence also the decision to dub the film in three Indian languages – Hindi, Tamil and Telugu," he said.
"Spider-Man is a name familiar to the Indian masses, and what better way to reach out to the masses than a Hindi song? And seeing Strings' current popularity, they seemed to be the best choice," Gangurde added.
He hoped the association with sister company Sony Music would give Spidey "the big leap."
Reportage: Bijoy Venugopal in Mumbai