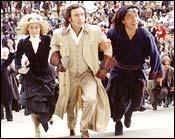 A departure from the ultra violent summer movies, Around The World In 80 Days, feels like a two-joke travel adventure. It is also the kind of armchair travel that just doesn't make one think of getting away from home.
The film, which cost about $110 million and often looks it, offers many colourful backgrounds, but the visuals are unexciting because of the dull action that unfolds. From to time, one feels the sets are embarrassingly fake. A sojourn in India, for instance, was reportedly shot on a soundtrack in Thailand.
Younger audiences who can see the original 1956 film on DVD may find it far more engaging and funny than the reincarnation. Whether it deserved an Oscar or not as the Best Film of the year, the original one created by Mike Todd was at least funny and had interesting artists like the suave David Niven.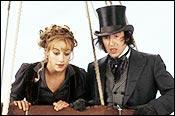 The film also pioneered cameos. It was a word coined by Todd to describe brief appearances by stars like Frank Sinatra and Marlene Dietrich. But in the new film, the cameos are wasted. Even Arnold Schwarzenegger looks miserable in his short appearance and offers a truly embarrassing performance. And Jackie Chan, who is also one of the producers on this film, looks jaded and just cannot save the film from a picturesque bore.
Director Frank Coraci (The Waterboy) has failed to give the film a proper orientation. Its fights do not pack punch and its overly broad comedy is not just tasteless but is embarrassingly bad.
The heavily and audaciously rewritten version of the Jules Verne classic novel set in 1872 focuses on Passepartout (Chan), a Chinese thief who steals a valuable jade Buddha and then joins the eccentric London inventor and adventurer, Phileas Fogg (a stiff Steve Coogan). Fogg has taken on a bet with the head of the Royal Academy of Science (Oscar-winner Jim Broadbent who is wasted here), that he can make it around the world in 80 days, using boats and trains and, if necessary, balloons and elephants. Passepartout thinks by accompanying Fogg, he could reach home fastest.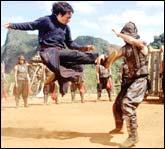 The script doesn't show how Fogg, reportedly one of the brainiest men in England, can mistake Chan for a Frenchman. Anyway, Passepartout uses his martial arts to defend Fogg from a raft of dangerous situations. The two also have to evade a detective who thinks that Fogg is involved in a London bank robbery.
When Fogg is drawn to Monique (Cecile de France), a French girl and aspiring painter who joins the journey in Paris, the film gets derailed seriously. Among the stereotypes the film shamelessly throws around is the Turkish prince (Schwarzenegger), who wants to add Monique to his harem.
There are many better ways to spend summer hours. For one thing, you can watch the Mike Todd version. Or you may read Jules Verne's book and admire his ingenuity and storytelling abilities. And don't forget Harry Potter And The Prisoner Of Azkaban as well as Shrek 2 are very much around, and The Terminal is around the corner.  
CREDITS
Cast: Jackie Chan, Steve Coogan, Jim Broadbent, Arnold Schwarzenegger, Cecile de France, Rob Schneider, Kathy Bates
Director: Frank Coraci
Screenplay: David Titcher, David Benullo, David Goldstein, based on the novel by Jules Verne
Producer: Walt Disney Pictures
Rating: PG
Running time: 2 hours