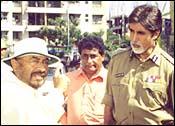 The first protest against Govind Nihalani's film Dev has risen from Gujarat.
The much talked-about film, starring Amitabh Bachchan, Om Puri, Fardeen Khan and Kareena Kapoor, has some resemblance to the Gujarat riots that broke out in the aftermath of the gruesome Godhra incident.


Sandeep Chandrasinh Revre, a resident of Rajkot, has filed a case in a Rajkot court against Nihalani for making a film that threatens to ignite communal clashes between two communities.
Revre has requested a stay order that disallows Nihalani to show the film in cinema halls across the country -- 'either by himself, through his agents or distributors; or even on television.'

According to Revre and his counsel Kamlesh Shah, there are many dialogues and scenes in Dev which are sure to hurt the feelings of Hindus as well as Muslims. Some of these dialogues and scenes are so sensitive that they may do great harm to their faith and respect for their respective religions, the petitioners claim.

In response to Revre's petition, Civil Judge D J Shah has issued a notice to Nihalani, asking him to be present in the Rajkot court on Friday, June 18.
Click here for More Features