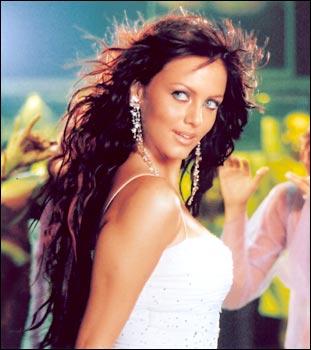 Oh! What a babe!
Don't get me wrong. That's the name of a song in Mahesh Manjrekar's new film, Rakht.
Danish rock group C-21, musician Shameer Tandon, and singers Sunidhi Chauhan and Shweta Shetty are at the helm of this item number.
Picturised on Czech beauty Yana Gupta (who featured in Babuji dheere chalo, in E Niwas's Dum), and the film's hero Sanjay Dutt, Oh! What a babe! is said to be one of the highlights of Rakht. The supernatural thriller also stars Suniel Shetty, Bipasha Basu, Dino Morea and Neha Dhupia.
There is a little story behind the song. When Shameer Tandon, general manager, EMI Music India, Virgin Records, turned music director to compose a song featuring the hot Yana, his first reaction was, Yana, Oh! What a babe!
"Those words came to my mind," recalls Tandon. "Suddenly, I uttered them in front of [co-producer] Suniel [Shetty] and the other producer, Prakash Khubchandani. When I went back to do the song with my lyricist Ajay, I thought why not include this line, Oh! What a babe! and found that everyone loved that line."
Turning the song into reality wasn't all that simple, however. He wanted to do something 'different'. "I've always pursued a corporate career. My first job was with the Birla Group. I always moonlighted with music. I have composed some 150 jingles. I also composed the song, Hum ko to hai poora yakeen hum jaisa koi nahin for the Indian team [during the 2003 Cricket World Cup]. My debut song in Hindi films had to be something that catches everyone's attention," he says.
When Tandon discovered that the Danish group C-21 was in Mumbai at the MTV Awards, he approached them to sing the catchline, Oh! What a babe.
"Luckily, they agreed immediately. They wanted to be part of Bollywood," he adds.
To add spice to the number, he introduced Germany-based crooner Shweta Shetty (whom you have heard singing Johnny Joker earlier). "I emailed her my song and asked her if she could just add her peppy voice. I wanted to add some Anglicized cat-like sounds, like, 'Aah, yeah, ooh, one more time'! She agreed and padded the song with her words and emailed it back to me," says Tandon.
"While I was doing my MBA, we were all told that we are living in a borderless world. I am happy I could use that philosophy in my debut song," he smiles.
Reportage: Syed Firdaus Ashraf