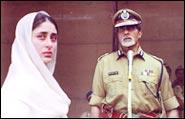 Amitabh Bachchan is Dev, a man who chose to walk the razor's edge. Pity this Govind Nihalani-directed film doesn't cut deep.
It would, however, serve as an exemplary case study on the evils of stereotyping, not only in terms of the plot, but also characterisation and the director's vision. Unless, of course, that was the intention.
The film deals with 'formulaic' subjects like Hindu-Muslim friction, communal violence, preachy jingoism, and the police and the political system.
Here's the plot outline: Bachchan is Joint Police Commissioner Dev Pratap Singh, who believes in serving and protecting the interests of the nation above all else. He is suspected of harbouring unpleasant feelings towards his 'minority' (read: Muslim) brethren. But nothing could be further from the truth, even though his only son, aged 5, was a victim of a Muslim bullet (if there was one!) and 'they' have made more than one attempt on his life and that of his wife, Dr Bharati (Rati Agnihotri).
But he is pigeonholed as a 'Muslim-hater', and Muslim politician and terrorist supporter Latif (Ehsaan Khan) perpetuates the stereotype for his own selfish ends.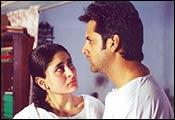 Enter Farhan Ali (Fardeen Khan), young lawyer and son of a peace-loving Urdu professor, who trades Gandhian philosophy for the gun when his father dies, a victim of a police bullet. Farhan now bays for Dev's blood and is groomed into a life of violence by Latif's henchmen. But when his own turn against him and aim to wipe him out, his only resort is the policeman he has been trying to kill.
Completing the picture, in more ways than one, is Om Puri, playing Special Commissioner Tejinder Khosla. Though he and Dev have been friends for over 30 years, he becomes a victim of the system, doing a classic good-cop-turned-bad routine. When he comes head-to-head with Dev, it makes for very interesting viewing. The scenes involving Bachchan and Puri make for the most riveting parts of the film.
Amrish Puri and Milind Gunaji playing Chief Minister and his sidekick Rao, respectively, manipulate Khosla, Latif and Dev for love of 'the seat'.
In the midst of all this is Aaliya (Kareena Kapoor), Farhan's childhood sweetheart. She is sucked into this whirlpool of violence and anger that reaches its crescendo when riots break out and people are burnt alive.
The seasoned performances of Amitabh Bachchan and Om Puri carry the film. Watch, especially, for the Bachchan monologue as he breaks down after witnessing the gruesome deaths by fire.
But don't write off Fardeen Khan, or even Kareena Kapoor. Both come into their own with this film. She has an author-backed role and lives up to it. Her singing is not too distressing either. Fardeen portrays the transformation of the innocent but troubled youngster to jihadi sharpshooter with conviction. Yes, and the much talked about kiss does tell of the couple's on-screen chemistry.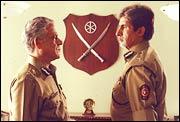 The other highlights are Aadesh Shrivastava's tunes and Zubin Balaporia's background score that lend themselves well to the goings-on. Ditto for Sharmistha Roy's excellent production design and execution. Nihalani's camera caresses Kareena in her introductory scene and during her song and there are a few more shots of brilliance during the film.
Nihalani endeavours to make a social statement with some hard-hitting art-meets-commercial cinema. But must this reflection in the mirror be a trite, sorry sight?
Don't get me wrong. Dev is not a bad film. Even with the minuses of storyline, a rather vague ending, and its duration, the performances of the lead actors are compensation enough, making it worth a watch.
CREDITS
Cast: Amitabh Bachchan, Om Puri, Fardeen Khan, Kareena Kapoor, Rati Agnihotri, Ehsaan Khan, Milind Gunaji
Director: Govind Nihalani
Producer: Entertainment One, Aditya Birla Group
Music: Aadesh Shrivastava
Lyrics: Nida Fazli