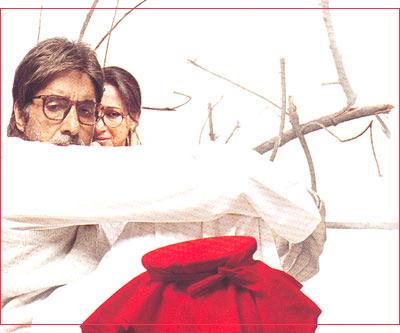 The rate at which Amitabh Bachchan is signing films, he might soon become a regular face on the theatre billboards. Witness Dev, Lakshya, and Deewar, which released one after the other over three weeks.
But who's complaining? Not the filmmakers, not his co-stars, and certainly not the audience.
Now Bachchan is on to a new project, titled Viruddh. Directed by Mahesh Manjrekar, Viruddh will be made in two languages -- Hindi and English. The English title is Versus.
Viruddh teams the Big B with his leading lady of Faraar -- Sharmila Tagore. The plot revolves around a lower middle-class household standing up to corruption.
Viruddh, produced by AB Corp and Satyajit Pictures, also stars Sanjay Dutt.
The mahurat of Viruddh was scheduled for June 28, but was called off at the last minute owing to the death of well-known producer Yash Johar.