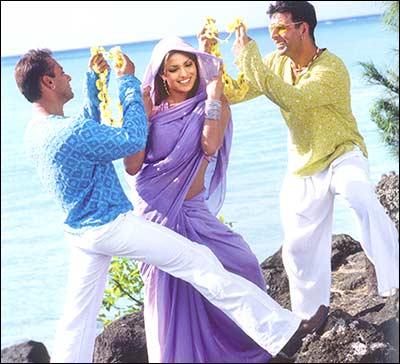 Years ago, Dimple Kapadia asked Rishi Kapoor the million dollar question in Raj Kapoor's Bobby, "Mujhse dosti karoge?"
Times have changed since then. Instead of taking the long route of friendship-love-marriage, Salman Khan and Akshay Kumar pop the question directly, "Mujhse shaadi karogi?"
Mujhse Shaadi Karogi? is the title of David Dhawan's new comedy, produced by Sajid Nadiadwala.
The lady over whom the two probable suitors keep on squabbling is Priyanka Chopra.
Here's the dope: Two flatmates: Samir (Khan) and Sunny (Kumar) fall in love with the same girl (Chopra).
Both the eligible bachelors indulge in one-upmanship trying to win over the bonny lass. While Samir falters at every step, Sunny appears to be highly adept at wooing.
Who wins the girl?
The answer is awaited on July 30 -- the release date of Mujhse Shaadi Karogi?