Bollywood is not about films alone. It is about the stars, the parties, the who-did-what-to-whom and glamour.
It is about film shoots and politically correct interviews.
And it is about news.
The Hindi film industry always makes headlines whether Aishwarya Rai walks out of the mega-production, The Rising, or Shah Rukh Khan undergoes a back surgery. It is also about the little things like a launch of a Bollywood calendar or Rani Mukerji's favourite destination.
This is a forum for those who want to discuss Bollywood gupshup.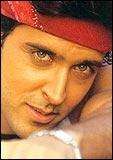 January 10 saw Hrithik Roshan turn 30. Have you wondered how Bollywood celebrities celebrate their birthdays? Most of them spend a major part of their lives either socialising with peers or attending filmi mahurats, launches and media parties. How different would their birthday be from those regular parties?
Maybe that is why their birthday parties are always private. Wife Suzanne Khan hosted a small party for Hrithik and restricted the guest list to Preity Zinta, Farah Khan, Karan Johar, Manish Malhotra and a few others.
Incidentally, a lot of people did not attend this private bash. Father-in-law Sanjay Khan preferred to attend a party thrown in Salman Rushdie and girlfriend Padma Lakshmi's honour.
Strangely, sister Sunaina Roshan also chose to pass. She was seen shaking a leg at a local discotheque. But we will not go into that.
Farah Khah definitely had a hectic social weekend. After Hrithik's party, she was ushered to another thrown by Karan Johar: her own birthday bash! But hers was a quickie, if you may, as she had to rush catch a flight to Mauritius.
Another star who had a private birthday party was Shah Rukh Khan. Wife Gauri threw a party for the 38-year-old actor on November 2, last year.
While small and homely party sounds great for some, others like 'happening' ones.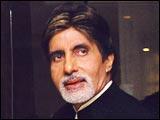 Amitabh Bachchan is one actor whose birthdays always make headlines. It is not just because he is a superstar. On October 11, 2002, wife Jaya Bachchan launched the exhaustive biography To B Or Not To B, to celebrate the actor 60th birthday.
Big B also announced his son Abhishek's engagement to Karisma Kapoor that year (of course, the fact that the couple broke up soon after hogged all the newsprint). The following year, AB re-launched his production company Amitabh Bachchan Corporation Limited with Ranveer, a film starring Abhishek and himself for the first time.
Aishwarya Rai had a lot written about her birthday gift given to her by Vivek Oberoi. Oberoi presented her with 30 gift items, each denoting a year of her life ranging from diapers to her Miss World tiara, on November 1.
Sushmita Sen celebrated her birthday (November 19) in style with a huge pink cake and daughter Rene in the television serial, Jeena Isi Ka Naam Hai, hosted by Farooque Shaikh.
If you know of any cool Bollywood birthday celebrations, do write in!
Hair trouble
Moving ahead, here's what I would call a bad hair day.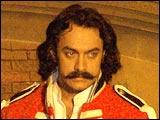 Abhishek Bachchan's new hairdo does not suit him. He is now wearing his hair long to suit the character of a warrior in his newest film, Akhand. Aamir Khan has also grown his hair for his Mangal Pandey look.
What is it with warriors and uncombed long hair, anyway?
It seems strange that while actors try hard to imitate the soldiers of yore, they do not conform to the present army cuts. Take the recent war film LoC-Kargil. None of the actors sported crew cuts to 'suit the character.'
While on hairstyles, another film personality has gone for a new look. This time, it is not film-related. Rhea Pillai, wife of Sanjay Dutt, now wears a long fringe with brown hair extensions. Does it look good? Hmm, good question. But she deserves credit as it does take guts to go for a radical change of image.