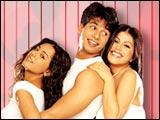 If Baghban did well for the older audience, there was Ishq Vishq that did good business because teenagers came in droves to watch the new star Shahid Kapoor.
If Chalte Chalte, about married couple did well, the horror film Bhoot too fared well.
"There is no particular kind of film that did well in 2003. There has been no particular trend either. Earlier, if a romantic film did well, it would set a trend for a series of romantic films. They would do well, too. We didn't have that this time," says Amod Mehra, film and trade analyst.
| | |
| --- | --- |
| | More on Rediff: |
| | |
The biggest blockbuster of 2003 was Koi... Mil Gaya, which generated Rs 45 crore (Rs 450 million), followed by Kal Ho Naa Ho, with Rs 25 crore (Rs 250 million), within two weeks of its release.

"The audience accepted these films as well as masala films like Andaaz and Qayamat. These were the films for masses and they too did well. The audience has opted for variety and that has given hope for 2004," says Mehra.

Rakesh Roshan, the producer and director of Koi... Mil Gaya, had told rediff.com before the release of his film that the Indian audience has become intelligent and they cannot be fooled with a bad film.

Asked how he expected a film like Koi... Mil Gaya to become a hit since it was not a typical Bollywood film, Roshan had said, "Filmmaking is a risky business. The Indian audience is fed up with the traditional love triangles and the same routine story. They want something different. That is what my film will offer them."

Says Mehra, "The Indian audience has become more mature and they want value for money. They have proved in 2003 that they want new and different kind of films. Even a film like Mr & Mrs Iyer, which was for niche audience, did well, thus giving hope to filmmakers to experiment with different subjects in future."

Vinod Mirani, editor, Box Office, says, "The Hindi filmmakers have completely forgotten the hoi polloi. They are only looking at three ways to make money: the niche class that goes to multiplexes; the satellite television through which they can make money and the overseas audience."

Asked why a variety of films worked in 2003, Mirani explains, "It is because people have become choosy. They don't want to waste their money on expensive tickets until they are very sure that a film is worth watching. They want to make it sure that every paisa spent on the film is worth it. So they watch films which have good word of mouth."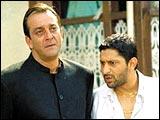 Citing Baghban and Munnabhai MBBS, Mirani says, "These two films didn't open well but started doing well later because of word of mouth. It just goes to show that the audience wants to be sure before watching a film."
Bharati Pradhan, noted film journalist, says, "The year 2003 proved that content and substance of the film are king. Whether a film has a big star cast or not, it will do well if the content is good. Jhankaar Beats is a classic example. It did well in spite of the fact that there wasn't a big star cast."
"After Jhankaar Beats and other smaller films in 2003, there is hope that variety and a different genre of films will do well in 2004 too," adds Pradhan.
Click here for More Features