There were a few things about Mani Shankar's Rudraksh that I knew before I watched the film:

This was his second feature film, after 16 December, which fared surprisingly well, starring Milind Soman,
Dipannita Sharma, Sushant Singh and Danny Denzongpa. It was an entertaining thriller with decent special effects.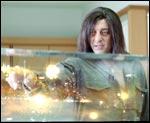 Rudraksh revolves around the powers of an ancient rudraksh, which once belonged to Ravana, the king who kidnaps Sita in Ramayana.
 
It is about Varun (Sanjay Dutt), who possesses mystical powers, and Gayatri (Bipasha Basu), a US scientist who comes to India to research on the supernatural. And Bhura (Suniel Shetty), a formidable character who gets to the powerful rudraksh first and Lali (Ishaa Koppikar), his sexy consort.

What I did not know was how ridiculous this film would turn out.

Varun has certain healing powers, much like John Coffin of The Green Mile. He can cure an old woman suffering from arthritis by simply holding her hands. The pain in her fingers vanishes and transfers to him. It makes him tremor a bit and, soon, all is okay.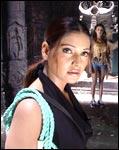 He becomes a willing subject for Gayatri's experiments and studies. Speaking of which, Gayatri's character is rather unbelievable. Extremely fashion-conscious, she wears tiny, trendy outfits throughout the film. Of course, a scientist can look good, but she need not look ridiculously dressed while working. Her team of girls, sporting some more tiny outfits, makes the research look like a joke.

In the course of experiments, Gayatri and Varun fall in love. At one point, she asks him to heal her emotional trauma. Next, we see Bipasha wrapped in a satin red cloth with Dutt massaging her body with oil. Perhaps this was the best scene in the film because it had the audience in raptures.

Now, Bhura is a labourer who steals the rudraksh when it is excavated from archaeological ruins. The evil rudraksh
makes him hungry for power. Driven by a force that wants him to create rakshasas (demons) and destroy the world, he starts causing riots in every part of the world. He also wants Varun to join him in ruling the world. Why?

It is never really explained how the rudraksh affects Bhura. The powers of the magic seed that Bhura can never touch are never revealed. Varun and Bhura indulge in some Matrix-style fights. Both are equally matched, which simply means extended fight scenes.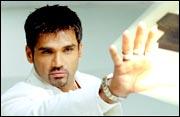 Ishaa Koppikar, as Bhura's escort Lali, has nothing to do, except look good. Besides, tapori language just does not suit her. Kabir Bedi, in a Prof Dumbledore getup, appears in a cameo as Varun's father.

The tacky SFX are a far cry from Shankar's 16 December. The Sri Lankan palace ruins in Rudraksh look fake. The swordfights are not exciting enough and much of the SFX seems forced.

Some of the 'serious' scenes have the audience in splits. Like the time when Varun tries to cure a madman (Raj Zutshi). Zutshi keeps chanting something which at first sounds funny and, then, soon gets irritating.

Rudraksh seems too ambitious a film for the director. In his attempt to explore mythology and the supernatural, the director does not seem to have known what to focus on. The characters are half-baked and look silly. Dutt looks uncomfortable in some of his meditation scenes and fights. If this movie was supposed to have thrills, there are none.
Mani Shankar could have made his film a winner. Instead, this is an experiment which has failed.