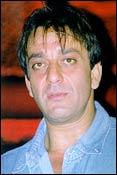 Blame it on the media. Or the man. But Sanjay Dutt just cannot seem to get along with presswallahs.

You might want to consider the questions posed to the deadly Dutt.
* The actor had dropped in for the mahurat of Mujhse Shaadi Karogi. Hero Salman Khan got a big bear hug. Then Sanjay wished the film's other actor, Akshay Kumar.
A reporter asked Sanjay if he planned to adopt Salman's long-haired look (Salman was wearing a wig) for a future film since it was similar to the one the duo had sported in their blockbuster, Saajan.
Dutt bent down and showed his bald patch to the reporter: "Main takla ho raha hoon. Hair hi nahin hai toh hairstyle kahan se hoga [I'm becoming bald. When there's no hair, how can there be a hairstyle]?"

* During the shooting of Rakht, Dutt was to do a dance sequence with Yana Gupta.

After the shot, a reporter asked him to describe his role in the film. Dutt answered, "Bahut accha role hai. (It is a very good role)." That was it. No one could get another word out of the star.

When someone prodded him about the dance experience with Yana, Dutt replied, "Arre bhai, main naach kahan raha hoon. Main toh khada tha. Yana naach rahi hai scene mein [I am not dancing in the scene. Yana is]."

Finally, desperate to get a solid answer from the actor, a reporter asked him, "Is it true that you play a college principal in Rakht?" And an answer, finally! "Arre bhai, main school ka principal hoon, college ka nahin [I am the principal of a school, not a college]."

*Next, Dutt called a press conference with former wife Rhea Pillai to announce a charity function.

But before anyone could ask him anything, Dutt walked out without speaking to the press. All he said was, "I'll come back in a minute," before making a quiet exit.

*At the press meet of Rudraksh, producer Nitin Manmohan said that his film was the modern-day Ramayana.

About his role, Dutt said, "I am the modern Rama in the film."

Dutt did not think much about the trend of heroes playing villains in films, the latest being Ajay Devgan in Khakee. "Why don't you ask this to Ajay instead? I did a film Zehereelay almost 15 years ago, where I played a villain."

He went on to say that the only difference in his hairstyle in Khalnayak and Rudraksh was, "In Khalnayak, I had original hair; in Rudraksh, I wear a wig."

Recently, rediff.com asked why he spoke only in one-liners. Dutt replied, "That is my style. I believe in one-liners. That is what Sanjay Dutt is all about."