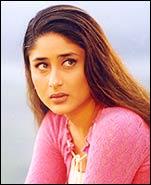 The pictures published in the Mumbai tabloid Mid-Day on Wednesday showing her in an intimate situation with boyfriend Shahid Kapoor have numbed and shamed Kareena Kapoor.
Being a thorough professional, she continues to shoot for Priyadarshan's new film with Salman Khan in Ooty. But her agitation is barely concealed.
"I'm not this kind of a girl. I have an illustrious family name to uphold," she says.
She wonders what the Bollywood media is coming to. "This is so sick! It's not even us! The pictures have been terribly morphed. I'm going to do my best to fight for my dignity."
The words come out in an anguished spurt. Kareena is genuinely distressed by what she sees as a violation of privacy. "I believed such mischievous morphing happened only on the Internet. Now it has reached the print medium. It's really sad!"
| | |
| --- | --- |
| | More at rediff.com ! |
| | |
The film industry seems to be worried about the repercussions of the incident.
Says one of Kareena's colleagues and friends, "Today it's her, tomorrow it could be me or any other actress. For Chrissake, don't we have the right to enjoy a private meal at a restaurant? And to pay such a heavy price for being celebrity is just not right. This is sheer violation of privacy!"
Though there is dismay about the incident across the film industry, Mid-Day is standing by the authenticity of the pictures and has resolved to fight the legal battle to the end.
The incident proves one thing for sure: Paparazzi journalism is here to stay in Bollywood.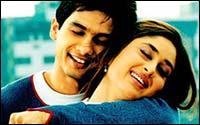 Earlier, gossip journalism in Bollywood entailed only the harmless tittle tattle of pen-pushers speculating about romance between one and the other star. The paparazzi was a long way from penetrating Bollywood, even when television exposes about politicians caught in compromising positions became the order of the day. We respected and loved our stars too much to demystify them.
The status quo has changed now. Television channels don't stop at anything to capture the stars in compromising positions on camera. Recently, Star News did a Tehelka-like expose with hidden cameras on the alleged flesh trade among Bollywood starlets.
With widespread mobile phone cameras, no celebrity is at liberty to let their hair down. Or they might lose the hair completely.