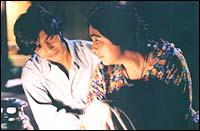 There is a side to Pakistan most of us are blind to. At least visually.
Director Sabiha Sumar presents that side to us -- a desolate, barren Pakistan, a magnificent, sprawling wasteland worthy of a Sergio Leone classic. For someone used to the congested streets of an Indian metropolis, seeing this grand, hilly Pakistani village, full of whispered secrets and echoed threats holds a surreal poignancy.
In the Charkhi village of Punjab in Pakistan, life is quirky, quaint, and increasingly foreboding. The setting itself presents a paradox: there are fortresses available for youngsters to romantically rendezvous, but no place for a kafir (non-Muslim) to hide.
Khamosh Pani revolves around the life of a simple, middle-aged woman, Ayesha, played by Kirron Kher. She seems normal enough, a typical Pakistani lady, living the placid life of a widow, supporting her family by giving Quran lessons to neighbourhood children. As the film builds slowly into its plot, we begin to suspect the central protagonist is actually her wistful son, Saleem. 
| | |
| --- | --- |
| | More on rediff.com! |
| | |
Saleem, played by Aamir Malik, looks exactly in the Jimmy Mistry (The Guru, East Is East) mould, just floppier, lazy, and intensely likeable. With a boyish grin firmly in place, he is smitten with girl-next-door, the no-nonsense Zubeida, who's trying to goad him into getting a job.
As the two murmur besotted secrets to each other across the roofs of conveniently empty minarets, Saleem realises that Zubeidaa's dreams of going to college and fashioning her career and her own riches far outweigh his own. In fact, he doesn't have any dream at all, just shuffling through life listlessly. He needs a vocation, a higher cause to believe in.
At this crucial juncture in his youth, Charkhi's naïveté is shattered by the arrival of Islamic fundamentalists. We suddenly realise that the year is 1979, and we're told emotionally that Prime Minister Zulfikar Ali Bhutto has just been hanged.
There is ample scope for over-dramatisation, but the scene has been handled with wonderful restraint -- a postman stands by his bicycle, seemingly lost. When Ayesha repeatedly asks him what's wrong, he just shakes his head and shows her the paper, muttering in disbelief that the prime minister has been hanged. Immediately, we're framed into uncannily familiar perspective:
General Zia's period of marshal law has begun.  
As the Sikhs are allowed to cross the border and revisit their native places of worship, dissent and fundamentalism sets in deeper. Saleem is now one of them, a misguided boy strongly hanging on to a deluded version of Allah.
The film turns darker and more sombre as an important issue comes evocatively to the fore. A gentle visiting Sikh alludes to the prospect of some female relatives being left behind during Partition, but is silenced vehemently by those around him. It is an issue of pride, and we are awakened to the nightmare that families actually killed their own, sacrificing them brutally to avoid dishonour at the hands of the enemy.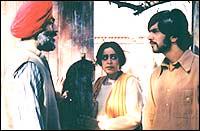 The irony is painfully simple: the womanfolk were actually safer in the hands of the very enemy, whose attempt at dishonour was probably preferable to the slaughter their own families put them through.
Zubair (Navtej Johar), however, is a Sikh determined to find his long-lost elder sister, and is sure she lived around these parts. The film is based on true incidents of the time, and as we shuttle through flashback and the present, Khamosh Pani confronts us with information many of us are unaware of.
The film is subtle, and refreshingly free of hysteria, enough to make it one of the best films in the increasingly crowded Partition genre, and reminds us that the subject still has so much to explore. It's a film striking in its simplicity, unlike most recent attempts that usually peter off into melodrama or pander to clichés and even propaganda.
Most directors, with an eye on the festival circuit, try to exaggerate their viewpoints, and show off cinematic abilities. Mira Nair is a case in point. Here, the debutante filmmaker has made a commendable first effort, with visible sincerity. Her lead actress, Kher, has done an overwhelming job, underplayed but truly a wonderfully written role.
This is the first Pakistani film I've ever watched; Sabiha Sumar has made sure it won't be the last.