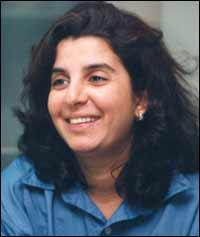 Choreographer-turned director Farah Khan is riding high.
Not only is her directorial debut Main Hoon Na a hit but it also got her a fiancé!
In a hush-hush affair, Farah got engaged to Shirish Kunder, the editor of Main Hoon Na, last month.
Kunder is born on the same day (May 25) as Farah's very good friend Karan Johar. 
"I always told Karan I'll get you one day," Farah jokes. "Since I couldn't get Karan, I settled for another man born on the same day." 
She tries hard to hide her embarrassment at the turn of events but fails.
"I don't know how this got out. The engagement was a very private and casual thing. Not even my closest friends were there. In fact, my mother read about it [in the newspapers], and threw a fit about not being informed."
So when and how did it happen? 
"Do we have to get into this?" she sighs. "We have known each other for seven months.  Before that, I just knew him as a talented film editor. And where during Main Hoon Na did we have time to get close? It was work all the way."
Now that she has found the man of her life, Farah intends to hold on to him.
An incurable romantic -- and certainly not a casual or flippant person -- there are no immediate wedding plans.
"The newspapers have decided dates for me. But we've no plans of marriage right now. Gawd, why this curiosity? It's like Jennifer Lopez is getting married!"
Click here for More Features