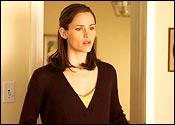 Jennifer Garner, who plays a gawky 13 year-old girl trapped in the body of a 30 year-old woman, is no match for Tom Hanks who played a similar kid trapped in an adult character in the hugely popular Big about two decades ago.
But Garner still offers a terrific performance in the new comic adventure. She could become a star overnight, as 13 Going On 30 opens with plenty of good buzz. It could be the big winning number with the date crowd.
Thanks to Garner's vivacity there is hardly a dull moment in the film. Again, thanks to her and some of her co-stars, particularly Mark Ruffalo, we may overlook some of the film's inconsistencies. For instance, there are moments when the 30 year-old Jenna behaves like a 13 year-old girl. And for no particular reason, she also goes around as a mature woman.
After his outstanding performance as a troubled young man in You Can Count On Me about four years ago, Ruffalo has not had a particularly strong part (he played the enigmatic detective in In The Cut). Here his affable character offers a nice contrast to the highly energetic and bubbly role essayed by Garner.
He is the guy she had rejected when she was 13, but now she wants him. And she is afraid she is about to lose him.
For those who find most teen movies vapid, 13 Going On 30 offers some substance as its young protagonist discovers that 'having it all' need not be a happy thing.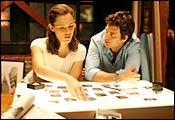 Jenna Rink (Crista B Allen) is convinced her life is purposeless and messy. She has hardly any friends. Her 13th birthday celebration is a disaster and when she gets trapped in the closet she wishes she were 30. Her favourite magazine Poise had made her think that all problems could be solved by that age.
Her wish comes true, and Jenna (now Jennifer Garner) is transported from 1987 to 2004.
She wakes up in a big apartment with a well-stocked closet. She is also the editor of Poise. As she begins redesigning the magazine, she has to deal with Lucy (Judy Greer), who used to be vicious and hateful in school. But now she seems to have become her best friend and co-worker.
Matt (Mark Ruffalo) is the former geeky boy she had dismissed in her childhood. Jenna now discovers he is a compassionate and well-meaning guy. But she just can't have him for several reasons.
Jenna is surrounded by plenty of material success, but she is still dying for a deeply satisfying life. She is afraid that back-stabbing could become her second nature. She does not understand why she can't make time for her parents. She yearns for a more honest and fulfilling life.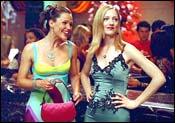 Director Gary Winick, who made the low-budget Tadpole about two years ago, has handled a medium budget ($25-30 million) movie this time. Happily, he hasn't made the second half of the film preachy. It may be a bit simplistic, but 13 Going On 30 is also a heartfelt and amusing film.
CREDITS
Written by: Josh Goldsmith and Cathy Yuspa
Directed by: Gary Winick
Starring: Jennifer Garner, Mark Ruffalo, Judy Greer, and Crista B Allen
Running time: 1 hour 37 minutes
Rating: PG-13