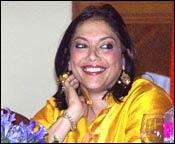 Mira Nair
(
Salaam Bombay!
,
Monsoon Wedding
) has tied up with Venky's Chicken to produce a film every year till 2007.
The company will be called the International Bhenji Brigade (IBB).

Under IBB, Nair will select three directors to helm a film each. She will also provide logistical support to the new joint venture.

The filmmaker talks to Syed Firdaus Ashraf about IBB.
How did IBB come about?


The company name is a tribute to my women artists who have worked with me for years. Ninety per cent of those who worked with me behind the camera have been women. So, I thought, why not keep this name?
| | |
| --- | --- |
| | More on rediff.com! |
| | |
But that does not mean that I will make films only for women under this banner. The films [we make] will be meant for everyone.

Why the association with Venky's?

I have been approached by many to do films with them, but agreed to Venky's because they offered creative freedom. It will be their money and my talent.
I am not very good in the business of filmmaking. My budgets are low. The best thing about IBB is we won't have a cash problem because Venky's Group will support us.

What is your commitment to IBB since you will not direct these films?

My commitment will be 100 per cent. I will be associated with all the films. My role will be to guide the directors and offer good cinema to Indian audiences and others over the world.
But first, I have to find three directors who can do the job. They need not be from India. They could be from any Asian country. Our objective is to promote Asian cinema globally.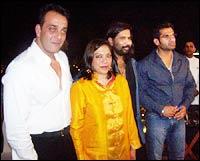 What are the kind of scripts you are looking at?

One film that I am looking at is about Islam phobia. 9/11 has changed the world and I would like to make a film on this subject.
Another script is about the liberation of women. It is about how a woman fights society to get her views across. My third script is about people who practise martial arts in South India.
But these are just thoughts. Nothing has been finalised yet.

Tell us about your latest film, Vanity Fair.

I have been a fan of William Thackeray's novel ever since I read it in Simla when I was 16. Now I am happy I am making a film on it. We just finished the film last week, and hope to release it by September 1. 

How difficult was it to convince Hollywood actors to act in your film?

It wasn't difficult at all. They agreed immediately when I approached them. All of them, including Reese Witherspoon, James Purefoy, Douglas Hodge, Jonathan Rhys Myers, Jim Broadbent, Gabriel Byrne and Bob Hoskins had seen Monsoon Wedding and had liked it.
Photographs: Jewella C Miranda
Click here for
More Interviews