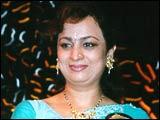 Noted film producer Smita Thackeray now heads a talent search which will be spearheaded by noted yesteryear directors and film stars.
Cinema People's Academy's objectives are to source, encourage and develop talent and look after the welfare of the Indian film fraternity.

Smita Thackeray said, "This organisation will help new talent that wants to join the film industry. They will also get full guidance from us."
The other honorary members of the organisation are: directors Yash Chopra, Subhash Ghai, Pehlaj Nihalani, Sooraj Barjatya and Ramesh Sippy. Among the actors of yesteryears who have joined the CPA are Dilip Kumar, Saira Banu, Asha Parekh and Vinod Khanna.
| | |
| --- | --- |
| | More on rediff.com! |
| | |
"This is a very noble deed. I agreed to support Smita after she came to me with this idea readily. This will help the new generation," said Saira Banu.
The CPA also announced an annual award ceremony for film personalities on the lines of the Oscar Awards. "This award is different from the existing Bollywood awards. Its purpose is to recognise talent in the film industry, be it from Bollywood or any other regional cinemas of India." 

The first award function of CPA will be held in April 2004.

The CPA claims that India produces 800 films ever year in 52 languages and employs 2.5 million people and the business turnover of the film industry is expected to by Rs 5,000 crorers by 2006.

Ramesh Sippy said, "Our objective is to find good talent for the industry. Today, there are no good scriptwriters. Bollywood script needs to be written in a style. This is not known by many people so we hope by setting up this organization we can help new comers."

CPA has also organized a workshop by renowned special effects expert 'Bob Keen' who will visit Mumbai by first week of November.

Keen has worked on international blockbuster films such as 'The Empire Strikes Back, Superman I & II, 'The Star Wars' and Return of Jedi. Keen will conduct workshop for technicians who want to learnt more about special effects.

"This is a small step from our side to help Bollywood technicians," added Thackeray.
Click here for More Features